Not Just Phone Banking: How to Find a Campaign Volunteer Role That Fits Your Skills
Whatever you like to do, you can probably do for a campaign.
by
Gretchen Brown
Nearly every minute Megan Glancey isn't at her full-time job, she's putting in volunteer hours on Elizabeth Warren's presidential campaign.
To her, it's worthwhile.
"I want to sit and write thank you notes while I watch TV at night," she said. "I want to moderate online while I'm making dinner."
Less than a year ago, Glancey, 27, had never volunteered on a political campaign before.
Since August, she's simultaneously held two volunteer leadership roles on the Warren campaign.
Glancey is a community leader for the campaign for her small city of Anacortes, Washington, organizing events and making sure they go smoothly.
She's also an online engagement lead for the Warren Call Crew, the phone bank workers.
Some of Glancey's volunteer work falls into what you'd consider traditional campaign volunteering. She'll knock on doors, help organize get-togethers.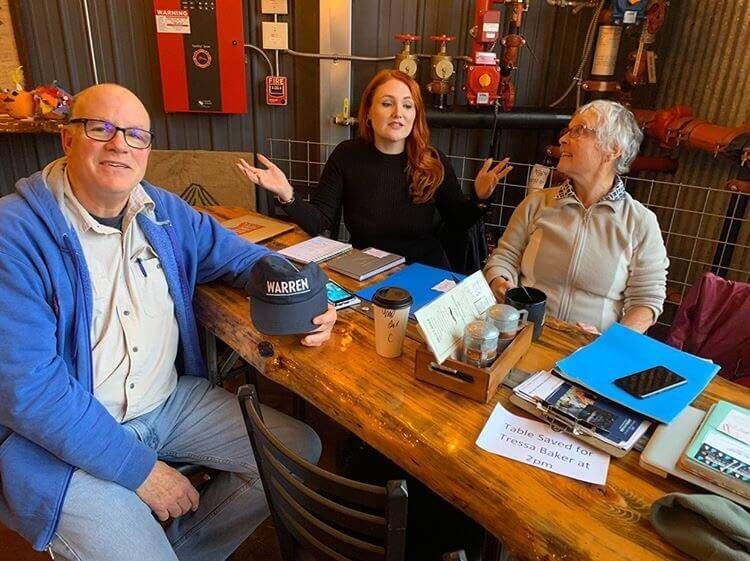 But some of her work breaks that mold. Her job as engagement lead is remote and online, communicating with phone bank workers on an internal forum only for campaign volunteers, answering questions and moderating the feed.
"There's this image of, you have to sit in a fluorescent room at a phone bank," said Nina Eliasoph, a sociology professor at the University of Southern California. "That was true 20, 30 years ago. But it's so different now."
In other words, the work you can do on a campaign is more diverse than you might think.
Volunteer based on your interests
Eliasoph has been volunteering for electoral campaigns since 2015. While Glancey is outgoing, Eliasoph doesn't see herself that way.
So the volunteer work she does is different.
She does postcard writing to registered Democrats, sending postcards to likely voters to help get out the vote. She'll set up a table for the Bernie Sanders campaign at local farmer's markets.
She meets up with a group that drives to Orange County from Los Angeles every weekend to register voters at places like community colleges.
That might sound boring to some, she said. But the conversations she has with voters are illuminating.
"I think, 'This is like being in a graduate seminar in sociology,'" she said. For a sociology professor, that's more than ideal.
Karly Hahn, too, says the conversations she has had with voters have been her favorite part of her political campaign volunteer experiences.
Hahn, 20, worked as an intern on Republican Pam Myhra's 2018 campaign for Minnesota State Auditor.
That included field work, making phone calls and door-knocking.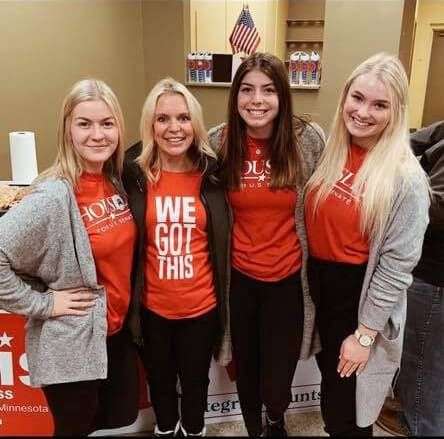 Since it's a statewide office that many Minnesotans aren't familiar with, door-knocking became more personal. Hahn found herself with an opportunity to both explain the candidate as a person, and also the direct impact they'll have.
On that smaller scale, you can emphasize how much the candidate cares about the job. You might even have a personal connection with the candidate. So you'll be speaking about that, not just the talking points.
"You just make a lot more impact as a volunteer on a local campaign," Hahn said.
Opportunity for impact
Many campaigns are looking for tech help. That means engineering, but also things like digital marketing, design, product and data science work.
"Digital campaigning is much more important than it was 10 years ago, so every campaign needs it," said Jessica Alter, co-founder and board chair at Tech for Campaigns. "It's just a bigger need now."
Tech for Campaigns is working to meet the need.
That means connecting volunteers to hundreds of progressive and centrist campaigns, but also building technology and playbooks for future ones. Since 2017, the organization has connected more than 11,000 volunteers to more than 250 campaigns. There isn't a similar organization that supports conservative campaigns.
Volunteers sign up on the Tech for Campaigns website, entering in their skills. They're presented with volunteer opportunities that align with those, and can apply for the positions if they're interested.
Most of that work is for state legislative campaigns, which Alter sees as most strategic.
Because Tech for Campaigns is working to flip states from red to blue, many of the volunteers are working on campaigns from outside their geographic area. All the work is remote. They could be in a blue state and volunteering on a campaign in a red one. You might feel like you have more of an opportunity for impact that way.
[ICYMI: What's the Most Effective Way to Make Political Donations?]
'It's up to me to start this'
But it's also worthwhile to volunteer for campaigns where you are. Some folks want more of a community feel.
Ryan Christens, chair of College Republicans at the University of Wisconsin-Madison, said starting with a candidate you believe in is the most important thing for a prospective campaign volunteer.
"That's what's going to keep you coming back," he said.
Christens, 20, was an intern for Leah Vukmir, who ran for one of Wisconsin's U.S. Senate seats in 2018. He worked at the campaign's headquarters in Madison, and communicated with the regional offices across the state.
Later, he left for another internship with the Republican Party of Wisconsin, working on finance communications, opposition research and assisting with day-to-day operations.
That fit well with his skill set, as he's currently studying business management and marketing.
For Hahn, the candidates she's worked for aren't just folks she believes in. They're role models. She went on to work on Republican Karin Housley's campaign for U.S. Senate.
"One of my big focuses is getting women involved in the Republican party," Hahn said. "And I worked for two really, really cool Republican candidates."
Glancey's volunteering started months ago when Warren came to Seattle to speak.
She felt fired up after the event. When she got home, she looked around for someone who was rallying her community for Warren. But she didn't see anyone.
"You realize, no one has started this," she said. "It's up to me to start this."
Passion is most important
If you want to get involved in a specific political campaign, you have a few choices.
You can go through the campaign's website and register to volunteer. It can be for a specific event, or a general registration, which will connect you with volunteer groups to phone bank, or text voters, send postcards or even do graphic design.
You can also host grassroots events on your own.
Some campaigns encourage that. On the Bernie Sanders campaign website, for instance, you can sign up to run an event in your area, whether that's a debate watch party, or community canvassing, or phone banking.
You don't need to have any certain personality type or educational background to be a successful campaign volunteer. Passion is the most important.
---
"If you show any ounce of initiative and can carry yourself in a way that can benefit the campaign, they're interested in taking you on board," Glancey said. "The biggest thing you're looking for in a volunteer is that they want to be there."
And whatever you do, don't be afraid to try.
"You are rarely going to get denied working for a campaign, especially a local campaign," Hahn said.
Volunteer on campus
If you're in college, a campus-based political group can also help you get started.
Emily Caswell, 22, went to a College Republicans meeting in 2015 during her first year at the University of Minnesota-Duluth. That got her connected with "Students for Rand," a group campaigning for Rand Paul's 2016 presidential bid.
Caswell said the group would text her about events, and she'd show up if she could — cold calling folks, and passing out fliers before a Rand Paul event on campus. Volunteering even got her some front row seats for the event. She wouldn't have even known about it without her local College Republicans chapter.
The time commitment is up to you. While Glancey spends most of her free time volunteering, Eliasoph spends anywhere from two to 10 hours a week, as the work ebbs and flows. Hahn door knocked two days a week for Myhra, but spent more than 12 hours a week plus weekends for Housley.
Alter said opportunities through Tech for Campaigns typically require between five and eight hours per week.
Part of a community
The advantage of internet organizing is that it's easy to get the word out, as shown by recent demonstrations like the Women's March in 2017, the largest single-day protest in history.
But Eliasoph said if you want to make a difference, you have to go further.
"It's good to dip your toe in with a demonstration," she said. "But the longer-term, just being together with people and planning stuff together is kind of the main course."
At Christens' chapter of College Republicans in Wisconsin, they recently hosted the state director of President Trump's election campaign, telling folks how to get involved registering voters.
Other times, the group will hang out and watch the debates together, or go to a baseball game. It's a community.
For Glancey, volunteer campaigning also has that community feel. Everyone is fighting for a common goal.
Now that she's caught the bug, she's sure she'll always live in some sort of volunteer space.
"The only way you're going to see those votes roll in is if you get up, organize and mobilize and actually talk to people and put in that hard work to make sure the candidate you support actually gets elected," she said.
"Just voting isn't enough."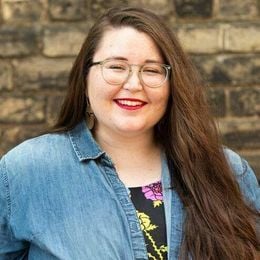 Gretchen Brown
is an editor for Rewire. She's into public media, music and really good coffee. Email her at
[email protected]
, or follow her on Twitter @gretch_brown.