Why Buying Is Not Always Smarter Than Renting
Conventional wisdom says you should always buy. But is it really that simple?
by
Gretchen Brown
If you're renting, you're throwing money away.
That's what I've been told my entire life, by my parents, my high school economics teacher and now my friends, who are preparing to buy their first homes.
The way they view it, buying a home is building wealth — eventually, you'll own those four walls you're paying money to live in. Each mortgage payment, then, is an investment.
But with renting, you don't get that. You're never done paying for it until you move out, and you'll never own the place.
The real math isn't quite that simple. There are situations where it actually makes more sense to rent a place than buy one.
Weigh the factors
Young households, ages 25 to 35, tend to move every five years, according to U.S. Census data.
Sixty-five percent of prospective home buyers in that group can only afford a 10 percent down payment, according to a Trulia survey.
With those factors together, Trulia found that renting can be cheaper than buying, or very close to it, especially in cities where home prices are particularly expensive, such as Honolulu and San Jose, California.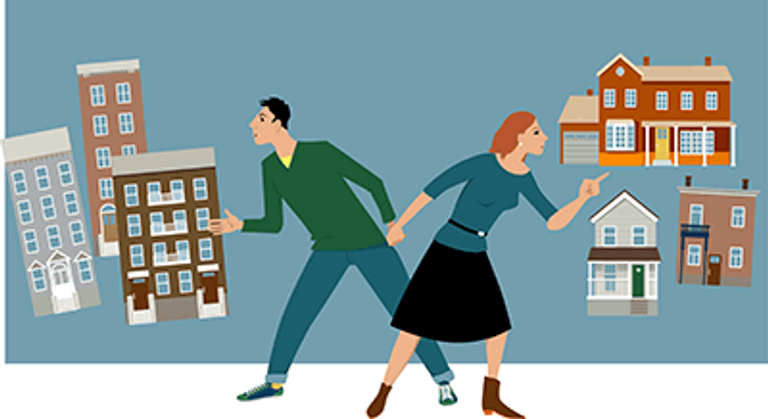 Buying is more expensive the less time you spend in a home. That's because buying a home comes with all sorts of fees, such as brokerage fees and closing costs.
When you stay for less than five years, you're not giving the home any time to appreciate in value, to make up for those costs.
"If you move every year or two, there's a cost to that, financial and emotional," said George Yeonas, managing director of the Steers Center for Global Real Estate at Georgetown University.
"You really have to look at your financial situation and make a prudent decision."
Yeonas says your mortgage payment should be no more than 25 percent of your income, after tax. And you shouldn't blow all your cash on the down payment — it's important to have some left over for emergencies.
Then there's the cost of home repair. While you're not liable for any repairs as a renter, you'll be in charge of any costly fixes when you buy.
"Total cost of ownership is something that young home owners totally miss," Yeonas said. "If you buy a home with any kind of age in it, you really have to be thinking about that in your budget."
[ICYMI: What I Learned Buying an Old House as My First House]
An incentive to home buying
There are a lot of advantages to buying a home.
The U.S. government has incentivized home buying since the 1930s, with federal programs like the Federal Housing Authority and the GI Bill, which made it possible for lots of people to buy houses who couldn't previously.
These programs required relatively small down payments and afforded long payback windows. Prior to the 1920s, you had to be wealthy to own a home. By the time the 1950s rolled around, that was no longer true.
Home buying also comes with tax breaks, both on your mortgage and when you sell.
These programs are still in place. There are also additional programs, state-by-state, to incentivize first-time home buyers.
Homeownership is a significant source of household wealth and continues to be a major way to build generational wealth, especially for low-income folks. Children of homeowners are more likely to be homeowners themselves.
But run a quick Google search and you'll find millennials aren't buying homes.
Homeownership rates still haven't recovered from pre-recession levels. In 2005, nearly 45 percent of folks under 35 were homeowners. In 2017, that number was 35 percent.
And it's not that we don't want homes. According to one study, 89 percent of millennials want to buy a home. But fewer than 5 percent say they're set up to do that in the next year.
Barrier to wealth?
Yeonas said that with the rise in housing costs, the down payment can be a huge barrier to many potential buyers.
For instance, a "starter home" in an expensive city like Washington, D.C might cost you as much as $335,000. Conventional wisdom says to put 20 percent down.
That's $67,000 — a lot of money to save when you're already juggling student debt, and more money than even the average millennial there makes in a year.
And while there are first-time home buyer programs in each state, many are essentially an additional loan for the down payment — which just adds on to the amount you'll be paying each month.
"If you're pushing 30 percent of your take-home pay to pay debt on your house, I think you're playing with fire," Yeonas said.
If you can actually scrape together the amount of money for a down payment, you might be better off investing it, in some cases.
In Canada, researchers at the University of British Columbia studied whether renters could amass the same amount of wealth as buyers if they invested money instead of putting it toward a down payment.
They looked at data between 1979 and 2006. Out of seven Canadian cities, the researchers found that savvy renters could accumulate 24 percent more wealth than buyers in four, and accumulate just as much in three.
But it's a steep climb to get there.
"For renters to accumulate the same amount of wealth as owners, they must be extremely diligent savers," they wrote. "Invest in a high yield instrument, do so with minimal fees, and have the good fortune to live in one of the cities where the right combination of low rents and/or low house price growth allows them to invest more in a relatively higher return asset."
Meanwhile, buyers can simply save that money by making their mortgage payments.
Renters were at a disadvantage due to the tax benefits of owning a home. And while there are good reasons for those benefits — like neighborhood investment and stability — the researchers called the slight to renters "striking."
Buying a home is an easy way to build wealth. But like any investment, there is always risk.
Until the 2008 housing crisis, many believed that housing prices could never go down in value, only up. Then they saw home values crash.
"The world has tremendous uncertainty into it, where no investment you make is going to hold certainty over the long term," Yeonas said.
You shouldn't necessarily hold off on buying a home because you're scared of losing money. It's hard to predict that. Renting also comes with uncertainty. In recent years, rents have skyrocketed across the U.S.
Determining whether it's cheaper to buy a home than rent a home isn't always simple. But if you're thoughtful about your financial situation and your future, you can't make a wrong decision.

Gretchen Brown
 is an editor for Rewire. She's into public media, music and really good coffee. Email her at
[email protected]
, or follow her on Twitter @gretch_brown.