How a Butterfly-Loving Biologist Learned to Fly
by
Jim Newberry
Using her hands as well as her feet, Giselle Garcia inexplicably climbs up a very long swath of crimson-red fabric hanging from the ceiling, wraps it around herself in an elegant configuration and then hurtles toward the floor. At the last split second, the silk wrapped around her ankles prevents her from hitting bottom.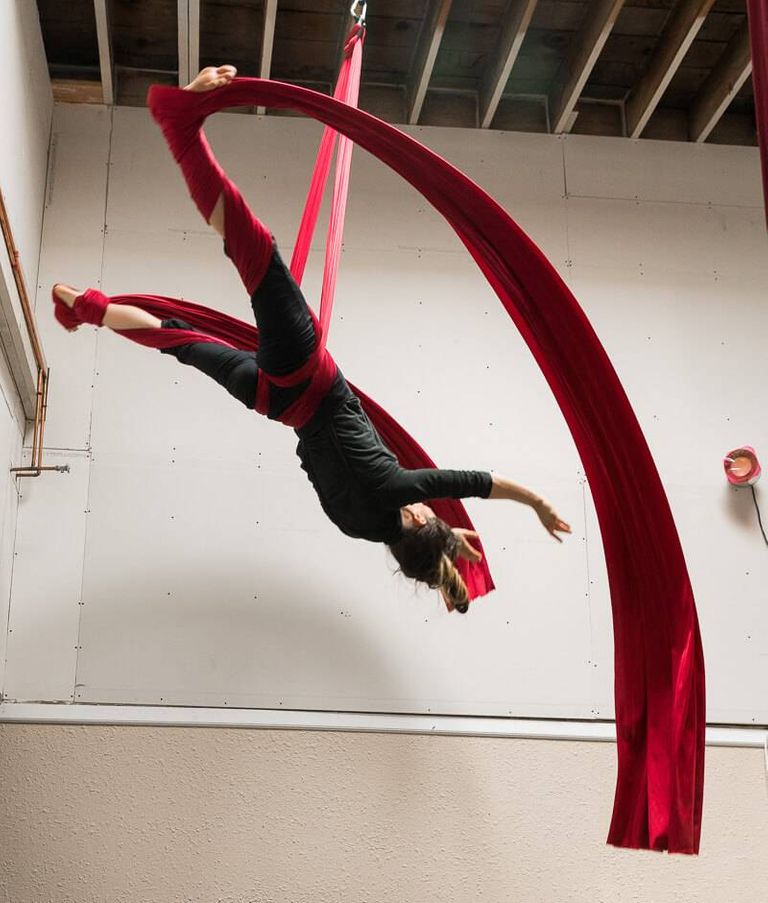 This dazzling form of acrobatics is called "aerial silks," the silks referring to the fabric used to stay aloft. Garcia performs and teaches the art at Sparrow Studios in Olympia, Washington, where she's rehearsing today, and at another Olympia studio, Airbound Arts. She's been practicing the craft for six years.
But Garcia is no one-trick pony, no matter how death-defying that trick is. She's also a prolific photographer, and many of the images on her Instagram page involve flight: photos of her own airborne performances, as well as striking, almost abstract, extreme close-ups of butterfly wings. She photographs butterflies she finds as well as ones preserved in museum exhibits.
Her love of the insects goes beyond photography. She earned a master's degree in evolutionary biology at the University of Chicago, where she used very expensive, sophisticated lab equipment to study and photograph bugs.
Now living in Olympia, Garcia has found a relatively low-tech method to continue shooting butterfly pictures, using a seriously weathered iPhone 6 with an inexpensive macro lens attachment that allows her to capture images at microscopic proximities.
[gallery link="none" ids="37483,37482,37481,37484,37490,37488,37487,37485,37480,37477,37476,37475,37478,37474"]
Photos by Jim Newberry, unless otherwise noted.
Rewire caught up with Garcia about the intersection of her two art forms and the life path that took her airborne.
Rewire: Out of all the insects out there, why are you drawn to butterflies?
Giselle Garcia: I started taking photos of butterflies as a technician in the lab I eventually joined as a graduate student—because they are beautiful, and I had access and exposure to many points of the life cycle that one only sees with daily contact.
Later on, as my scientific studies developed, I started studying the genetics and timing of butterfly wing development, and was taking a lot of scanning electron microscope photos of the wing at various developmental points—and noticed, as many others have, how abstract and wonderful the wing is when you zoom in.
The wing color is made up of scales, and each one is just one color, so only when you zoom in do you get to see the kind of pointillist nature of the wing.
Rewire: How did you get into aerial silks?
GG: I've always loved moving. I think I do aerial as opposed to other forms of movement because it is quite constrained, in some ways—there are only so many ways you can get from A to B in an individual trick, so you must find the ways to make a movement your own. Physically, it is all-encompassing, which was a good complement to the nature of a Ph.D. program, which was what I was doing when I started really focusing on circus.
I also really love that you have to maintain training to do circus—you can't leave it, or you become weak. So it requires regularity and consistency and structure. The community is also amazing. I was very lucky to be in Chicago and a part of the (Aloft Loft) community, and then to get to come back to Olympia to my original circus community. Full of amazing, amazing artists.
Rewire: How did you wind up with the assortment of interests and skills and jobs you have today?
GG: Oh, I don't know. I wandered to and fro, and here I am! A big recent decision was coming back to Olympia from Chicago. It has taken a minute to get settled back in, but the community is so supportive and full of such wonderful people, and it is possible to make a very full life with fewer hours of work—a bubble at least partially isolated from what people think you should be doing. Or, it can be that way, for some. I'm very grateful to be back here.
Additional reporting by web editor Katie Moritz.

Jim Newberry
 is an internationally published, award-winning photographer based in Los Angeles. His interest in photography began as a young child, when his father—James Newberry, who founded the photography department at Columbia College Chicago—gave him a camera and taught him how to use it. He later graduated from Columbia, and soon after began shooting assignments for magazines and record labels. Jim continues to shoot for editorial and commercial clients, as well as shooting fine art photography, especially street pictures.