Bridesmaidzillas? What to Do When the Bridal Party Doesn't Get Along
Remember: It's about the couple!
by
Gretchen Brown
The bachelorette party was planned, the dinner reservations were booked.
As maid of honor, I posted the detailed plans in a Facebook event, a month out from the day.
It wasn't long before a bridesmaid commented.
She didn't like the plans. She had her own idea of what we should be doing to celebrate.
Soon, there was a full-on comment war, as other bridesmaids joined in to give their take on the party.
I'm far from the only one this has happened to. There are thousands of posts on wedding discussion forums and Reddit with the same dilemma: What do you do when your bridesmaids don't get along?
On the surface, it seems like this shouldn't be happening. After all, the bridal party always has one thing in common: their love for the people getting married.
But it's not that simple. Bridal parties are often a mishmash of people from all stages of a bride's or groom's life: their childhood best friend, their college roommate, their cousin, their coworker.
As such, everyone comes with different life perspectives and experiences. One person's idea of fun might not match up with another's.
Combine that with the fact that it's expensive and stressful to be in a wedding— and that bridal parties are larger than they used to be.
Bridesmaids and groomsmen shell out $1,154 on average, plus $500 or even up to $1,500 more for the bachelorette or bachelor party. And it's not just three or four people you have to get along with— some bridal parties have up to ten.
All that together means there's a lot of emotions and a lot of clashing opinions.
Don't bother the bride or groom
When it happened to me, my first question was how much I should bring the bride into it.
I didn't want to stress her out. But I also figured she was the natural mediator in this situation, a fight between some of her oldest friends.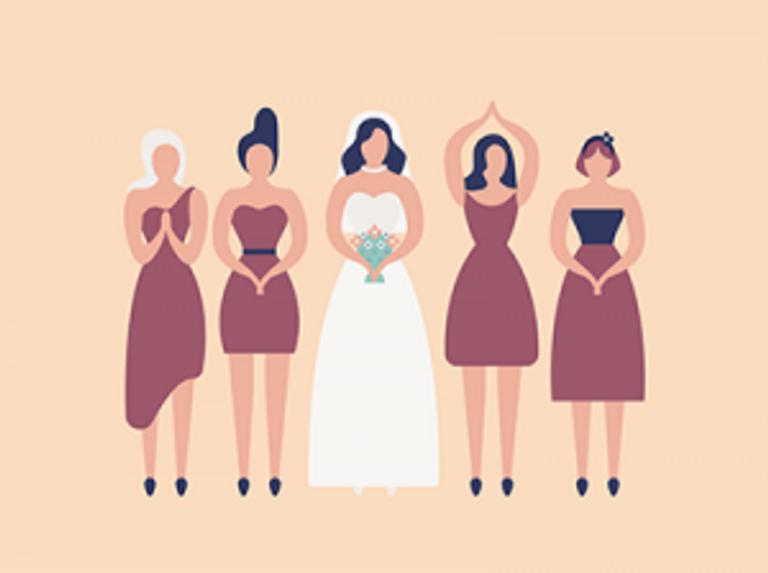 I did end up letting her know that the fight had happened.
Catherine Bachelier, an event planner and stylist, says that's probably the wrong choice. She recommends leaving the bride and groom out of whatever scuffle is going on, if you can.
That's because they're already incredibly busy working out the details of their own incredibly expensive party (their wedding!!!!). They have tons of choices to make on their own time.
A bachelor or bachelorette party shouldn't be creating more work.
"The last thing they need is to work out more details of a party thrown in their honor," she said.
According to Bachelier, the maid of honor and/or best man were chosen for a reason. They're the designated right-hand people of the married-to-be, so they're in charge.
"Just like the captain of a team or leader of a company, they should present the group with a variety of ideas, then make the final judgement call," she said.
If you're not a natural decision-maker, or not used to being an authoritative leader, this can be tough, especially in front of people the bride and groom love and respect. You want everyone to have a good time.
It's not about you
One way to solve this? Keep it centered around the bride or groom. Even though they're not directly involved in the party planning, you've likely already consulted with them about what kinds of things they'd like to do.
Keep coming back to this, no matter what you're hearing from the rest of the bridal party.
"Coming to the table with your friend's (the bride's, the groom's) best interest at heart always helps with the diplomacy," Bachelier said.
Psychotherapist Nicolle Osequeda agrees.
In the end, it's not really about you, anyway. Even though you might feel that becoming friends with the rest of the bridesmaids is important, chances are good you might not ever see them again.
"That way you externalize the party to something greater than getting along with people you will probably not see again," she said.
It should be fun!
Sometimes, getting the bride involved can help. After I told the bride that some of the bridesmaids weren't happy with the party I had planned, she reiterated to them that it was what she wanted. This helped silence the critics a bit.
In the end, everyone showed up to the bachelorette party and had a great time. I compromised by letting some folks skip the first activity, a distillery tour, if they felt it wasn't in their budgets.
There weren't any major arguments, and we all got along just fine. The bachelorette party— and wedding— went off without a hitch.
That's the thing: Too much arguing, and being part of a wedding party is going to feel a lot like an obligation. But in the end, a wedding is supposed to be a happy celebration.
You're all there to celebrate someone you love.

Gretchen Brown
 is an editor for Rewire. She's into public media, music and really good coffee. Email her at
[email protected]
, or follow her on Twitter @gretch_brown.