How Something as Small as a Book Club can Start a Micro-Community
Listening is a big responsibility.
by
Kyle Raymond Fitzpatrick
Five years ago, I started a book club because I wanted to read more. It was a little literary experiment that started with four or five friends getting together to talk about a book, typically in the company of wine and snacks.
There were times when only two people showed up and times when I had to kick people out for repeatedly flaking. I added new people in, replenishing and replenishing until the group found its stride, ballooning to a solid group of twenty-two eager readers who gather monthly to chat books.
It would be simplistic to call my book club just a book club; it's become a sort of de facto family of choice, a place for people to air grievances, share feelings and build connections offline — and online — via a literal social network.
The group has evolved, grown, rising to the occasion to support each other. In times like these, in moments of isolation and pandemic, the group has tightened, staying connected through lengthy group chats of support and video meetings.
As communities tend to do, we adapt, we change — and this is crucial in stressful times.
---
[ICYMI: How to Actually Help a Friend in a Tough Time]
From socializing to networking
While this realization was a surprise to me, book clubs and other small gatherings are naturally a great way to connect — and talk about more than the subject at hand.
"[Book] clubs really allow for members to not only share their perspectives on a text, but also to share some of the life experiences that led them to these perspectives," said Jessica McCaughey, an assistant professor of writing at George Washington University.
McCaughey speaks from experience. She created a multilingual book club intended to serve international students, visiting scholars and other community members at a previous institution.
"The book serves as a jumping off point or a prompt, when these clubs are at their best, for conversations about life outside of the book."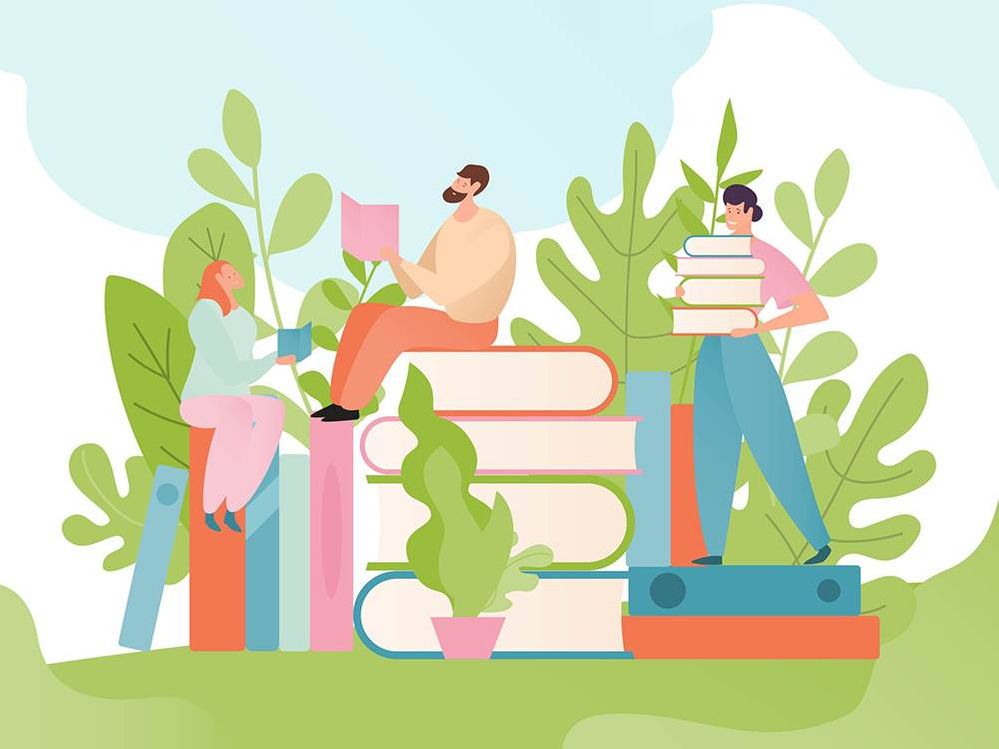 Unsurprisingly, my club has seen people help people get jobs, find each other people to date and even has led to other groups spinning out from this main core. Like a digital social network, small groups kindle relationships, which all participants benefit from.
"Our connections with others provide social capital, or access to resources through our social network ties," said Monica Whitham, an assistant professor of sociology at Oklahoma State University.
"Research suggests that the more people in a community who know one another and have a sense of trust and obligation to one another, the more successful the community will be at meeting the needs of its residents."
It's a ripple effect. A small group tightens the larger social fabric of a community.
---
[Read: Why is it Hard for Adults to Make Friends?]
Come together
To understand how groups like this can evolve, I spoke with Sarah Williams, the executive director of The Women's Center for Creative Work (WCCW), a Los Angeles organization that cultivates the city's feminist creative communities and practices.
The WCCW originally started as a series of dinners in 2012 for women in the arts, intended to explore the intersection of creative practice and feminism.
"We expected 20 to 25 people to come," Williams said of this first gathering. "About 60 people came."
Williams had an immediate interest in what would become the WCCW because there was a community hungry for a way and means to come together. Williams and her co-founders found success by planning, exploring and taking a measured approach to growing.
"It's a lot of listening at different levels," she said. "Listening is a big responsibility."
Asha Grant, a freelance digital content producer and community librarian, understands this both as a person inspired by the community work of others and someone seeking to build community locally.
Grant started The Free Black Women's Library Los Angeles in response to OlaRonke Akinmowo and her Free Black Women's Library in New York.
"[Akinmowo] started The Free Black Women's Library in Brooklyn by inviting folks to come to her stoop to swap books written by Black women," Grant said. "The library events provided an opportunity for me to fill my cup as far as representation and community."
Grant started her iteration of the Library with Akinmowo's permission when she moved back to Los Angeles, her hometown. Similar to Williams, Grant felt a hunger from the community she was hoping to support, realizing that such an act is actually radical. She too pointed to the importance of listening.
"Listen to what your community wants and needs and follow that," Grant said. "It's not all about what you think people need. It's not only narcissistic, but also lends itself to a dangerous, white supremacist framework of engagement."
Trust each other
This raises a question: how can spaces be made for communities to have safe, open discussions? This is central to something as small as a book club or as large as the WCCW or FBWL. What's the missing piece, for those who want to build a good group?
---
"Trust and respect are definitely needed here," said Wenlin Liu, assistant professor of communication at the University of Houston.
"The nature of conversation also matters. This is probably why a book club is more likely to bring people together than a political group because it's easier for people to identify similarities rather than differences."
Liu points out two different ways of connecting in groups, "bonding" versus "bridging," both of which serve a purpose.
"The type of community building within minority groups is about building in-group relationships ('bonding')," Liu said. "But it's equally important to build out-group relationships ("bridging") when it comes to many matters."
"If we can build cohesive minority communities, it may be easier to bridge any difference and connect the minority group to the larger community," she said.
How To book club
For those hoping to start a group or transform a small group into something more expansive, there's a lot you can do.
As Williams points out, it's impossible to do everything oneself while scaling — and know that growth is not always the answer. Recognizing that is crucial and can be helped by defining what type of growth you're interested in.
"What is expansive growth outward versus depthful growth?" Williams said. "Consider that."
Grant suggests jumping into the work because you never know what will happen.
"I had no idea that it would pick up such traction," Grant said. "It's beautiful…Don't be afraid to start where you are with what you have."
Which brings me to my book club: while the group could expand into something more robust, to rival that of Oprah's (kidding!), giving a depth to my book club and serving these people who are the most important, special people I may ever meet is all I need.
So how does one start a book club? McCaughey has a few suggestions from her own experience.
"Make book selection as democratic as possible," she said. "Let people vote on books, or let every member have a turn choosing."
She also suggests leveling with new members, letting them know the nature of the group.
"Make sure anyone joining the club knows the general concept and 'feel,'" she said.
My advice? Email a group of people you are close to or semi-friendly with — or just people who have talked about reading and books in your company. See what sticks but be consistent and continue, whether the group picks up or not because it will eventually pick up.
Keep meetings monthly, at the same time and place, and don't be afraid to cut people who stop participating. (I cut people after three months of dead air, sadly for them.)
And, even in the face of something like the coronavirus, lean into the routine, the normalcy of meeting digitally. We as people crave routine, particularly in chaos; leaning into community and meeting during these times seems right (and also lets all of us peep each other's homes via Zoom).
Be the host of the show too, preparing questions for the group and steady guidance for conversation, in case the group has nothing to say.
But most importantly? Keep the group functioning in the most egalitarian way as possible.
Why? Because you're building a family of very different people. Everyone should feel like both parent and child.
When done correctly, no matter the circumstance, everyone has power and everyone has a shoulder to turn to. Whether virtual or physical, a book club offers stability and normalcy. Community matters and, in moments like these, there's an opportunity to "lean in," as they say.
Perhaps this is your time to start the book club you've always wanted to start.