Why the Body Positivity Movement is Turning Some People Off
by
Gretchen Brown
Andrea Pendergast hadn't worn a swimsuit in maybe a decade.
That changed when she stumbled upon Corissa Enneking, a "body positive" vlogger who runs the YouTube channel FatGirlFlow. It was the first time Pendergast had seen someone who looked like her wearing a bikini.
"I realized, 'Holy crap, I don't have to wait to do these things,'" she said. "'Holy crap, I don't have to wait to lose weight (to wear a swimsuit).'"
It's been three or four years since then, and the body positivity movement has ballooned in popularity. It's been adopted by television actors, social media influencers and in marketing for major clothing brands.
Instagrammers proudly display "fat rolls" and clothing companies market unretouched billboards featuring "real models" with stretch marks and cellulite.
Too exclusive?
In its modern form, "body positivity" can mean anything from accepting your flaws to being happy with your body to fighting for the visibility and acceptance of larger bodies.
Pendergast, now 32, says that definition has broadened over time. And the more it has, the less it seems to fit.
"It's been co-opted by brands and influencers who have no idea of where it started and came from," she said. "And it's super painful to see these YouTubers… not really get that body positivity is also political."
She's one of a growing number of former body positivity adherents who are moving away from the movement.
For some, it's because the standards of acceptable "body positivity" have narrowed, that the movement is no longer welcoming or inclusive. For others, it feels like too much pressure.
U.K.-based style and lifestyle blogger Stephanie Yeboah, 29, prefers the term "fat acceptance" instead of "body positivity."
"I found that a lot of the women they were using to present that positivity were white, often hourglass-shaped, Ashley Graham-shaped women," Yeboah says.
Graham, the prominent model who in 2016 was the first plus-size model to be featured on the cover of Sports Illustrated's Swimsuit Issue, has become a pillar of the movement, regularly calling out "body-shamers" on Instagram.
She also wears a U.S. size 14, according to her agency. That's slimmer than the average American woman, who wears a size 16 or 18.
Though many brands are featuring plus size models like Graham more regularly in advertising, the models still fit narrow standards: size 14 or smaller, hourglass shape, high cheekbones, light skin, flat stomach. Women who wear anything larger than a 14 still aren't seeing themselves in even the most "body positive" campaigns.
To Yeboah, who is black, that kind of branding shows an existing bias against fat people and women of color. She says body positivity wasn't meant to apply only to those who fit a narrow definition of beauty. It was meant to be a social movement.
---
"I think body positivity was created for bodies that are not privileged," she said.
Shifting meaning
What we know as the modern body positivity movement did not begin with that famous Dove campaign featuring women of different sizes standing around in their underwear. Or the one where a forensic artist teaches women about their natural beauty.
Instead, it has roots in the fat acceptance movement of the 1960s. During a decade of civil rights activism, the National Association to Aid Fat Americans was formed to fight discrimination against larger bodies.
Research has shown that overweight and obese people face stigma and discrimination when it comes to employment, health care and education, stereotyped as lazy, unmotivated and sloppy.
According to one study, weight discrimination is as prevalent as racial discrimination. Another study found that college students who were shamed about their weight were more likely to become depressed and less likely to make friends.
In the mid to late aughts, social media sites like YouTube, Tumblr and, later, Instagram provided a new platform for images of fat women, many of them women of color, who weren't shown in the mainstream media.
Images can be powerful. For Yeboah, seeing plus size women in those early social media days was encouraging.
"It was so instrumental in my personal growth and in my self-esteem because I was opened up to a whole variety of different bodies," she said.
"The reason I started taking pictures of myself wearing dresses or wearing a bikini is because I saw another plus-sized person on Instagram wearing that, and I thought, 'If she could wear that, I could wear that too.'"
Yeboah began using body positivity hashtags in 2014. Today Yeboah has over 23,000 followers on Instagram as @nerdabouttown.
As the body positivity movement became popular, Yeboah and other influencers saw mainstream clothing brands like ASOS, Levi's and H&M expand their size ranges.
Language is personal
These days, the terms "body neutrality" and "body acceptance" are gaining steam as alternatives to body positivity. While vocabulary is personal, changing the language can make the movement a better fit.
"It's a great option, because not everybody clicks with the term 'body positivity,'" said Kelsey Miller, 34, who wrote the Refinery29 column "The Anti-Diet Project" for half a decade and authored a book about her own journey out of disordered eating.
For some, "body positivity" suggests you need to be happy about your body all the time. That can seem forced at best, if not restrictive.
That's the way it felt for Chevese Turner, chief policy and strategy officer for the National Eating Disorders Association. Turner, who has struggled with body image issues and an eating disorder, said she used to believe that the only way she'd be "well" is if she loved herself all the time.
She later realized that wasn't realistic.
---
"Not being able to embrace those moments where you're having difficulty can actually set you up, if you have an eating disorder, to engage in that disorder," she said.
More than loving the way you look
Most recently, body positivity has even become a marketing tool for the diet industry.
Diet company Weight Watchers rebranded as WW late last year, changing its focus to "wellness," and soundtracking its ads to body-positive rapper Lizzo.
The rebrand has been called disingenuous by some critics. At its core, they say, it's still a weight loss service.
"Really what they're offering is not any different, it's just wrapped a bit differently," Turner said.
By comparison, true "body neutrality" and "fat acceptance" reject the idea that anyone should be ashamed, held back or discriminated against because of their body, Miller said.
That's different than simply loving the way you look.
For Miller, there's no downside to the growing visibility of each of these movements.
"Some days I really click with the sort of neutral attitude a lot more because it's not always easy to feel, 'I'm so in love with my body,'" she said. "I'm glad there are a lot of terms out there for people, because we're talking about identity, we're talking about really personal stuff."
Even though the original body positivity movement has fractured into several smaller movements, Pendergast said she still wants it to be easy for people to have the experience she had; to find a community of people who look like them.
But mostly, she said, as with other social movements, even if you don't see yourself in it, you can be an ally to your friends who do.
"Stand up for your friends who are being treated differently or judged," she said. "Because we need everyone in this together."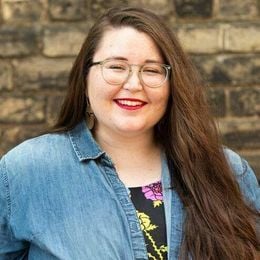 Gretchen Brown
is an editor for Rewire. She's into public media, music and really good coffee. Email her at
[email protected]
, or follow her on Twitter @gretch_brown.