Why Black Students Succeed with Black Teachers
by
Katie Moritz
An amazing teacher can make a difficult school experience bearable. They can push you to achieve when you don't think you can make it to the other side of graduation. They can remind you that learning is fun and more than tests and grades.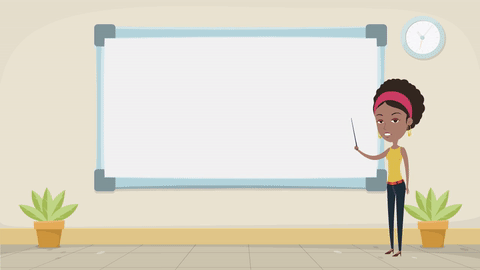 And for low-income black students, having this amazing teacher also be black can be a game-changer, according to new research from Johns Hopkins University, American University and University of California, Davis.
Students who are black and come from low-income families and have just one black teacher in third through fifth grades are 29 percent less likely to drop out of high school, the study found.
Boys in this demographic benefit even more—they were almost 40 percent less likely to drop out.
These numbers build the case for schools employing educators who will physically and culturally reflect the students they're teaching. Not only are there short-term benefits, the benefits are still apparent years down the line, when one-time third- through fifth-grade children are graduating high school as young adults.
"Black students matched to black teachers have been shown to have higher test scores but we wanted to know if these student-teacher racial matches had longer-lasting benefits," study co-author Nicholas Papageorge of Johns Hopkins said to the university. "We found the answer is a resounding 'yes.'
---
We're seeing spending just one year with a teacher of the same race can move the dial on one of the most frustratingly persistent gaps in educational attainment—that of low-income black boys. It not only moves the dial, it moves the dial in a powerful way."
According to the National Center for Education Statistics, about 75 percent of black high schoolers graduate in four years from public schools in the United States, compared to about 88 percent of white students and 90 percent of Asian and Pacific Islander students.
However, the graduation rate for black males is startlingly lower. According to a report on black male students by the Schott Foundation for Public Education, the estimated national graduation rate for this demographic was 59 percent in 2013. The rate for white males was 80 percent. (Neither the Schott Foundation nor the National Center for Education Statistics break their statistics down by income level.)
Making a real-life difference
In order to determine the effect black teachers have on these rates, the Johns Hopkins researchers studied about 100,000 black students entering third grade in North Carolina Public Schools between 2001 and 2005. According to the study, about 13 percent of these students dropped out of high school and half graduated with no plans for college.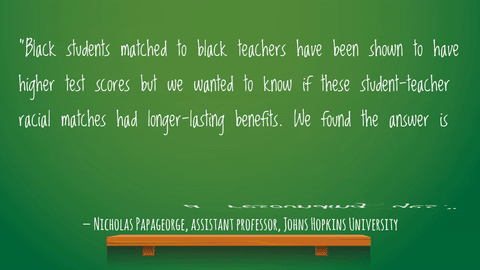 But the low-income students who were randomly assigned to at least one black teacher in third, fourth or fifth grade were not only less likely to drop out, they were also 18 percent more likely to say they wanted to pursue college after graduation. Of these kids, the boys were 29 percent more likely to say they were thinking about college.
About half of these 100,000 kids ended up having a black teacher during one of those three years. The research showed that having more than one reduced dropout rates even more, but not significantly more than having just one. The researchers replicated their findings by looking at data from black students in Tennessee in the late 1980s.
To the researchers, this means a change that could make a big difference would be easily implementable within public schools, even with an "elementary and secondary school teacher workforce in the United States (that) is not as racially diverse as the population at large or the students," according to the 2016 State of Racial Diversity in the Educator Workforce report by the U.S. Department of Education. While only 51 percent of U.S. public school students are white, 82 percent of elementary and secondary educators are. On the other hand, 16 percent of students are black, but only 7 percent of teachers are.
---
This isn't a situation where students need two, three or four black teachers to make a difference. This could be implementable tomorrow," Papageorge said. "You could literally go into a school right now and switch around the rosters so that every black child gets to face a black teacher."
Why black teachers matter
Black teachers make all the difference because of something called the "race match effect" or the "role model effect." When students of color see themselves reflected in the role models in their lives—and some of the most prominent ones we have as kids are our teachers—they're more likely to invest in themselves and their education. They're more likely to believe they can be successful, too.
It's all "about the power of expectations and the way people make investments in themselves," Papageorge said.
He and others published related research last year that suggested the race of a teacher impacts how he or she will judge a black student's abilities. When looking at the same black student, the white teacher was about 40 percent less likely to predict the student would finish high school than the black teacher was.
"If having a teacher with high expectations for you matters in high school, imagine how much it matters in the third grade," Papageorge said.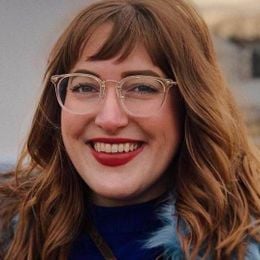 Katie Moritz
was Rewire's senior editor from 2016-2020. She is a Pisces who enjoys thrift stores and pho. Follow her on Twitter @katecmoritz.