The 15 Best Shows You Saw on PBS in 2016 (Or Wish You Had)
by
Maribel Lopez
You've done your interfacing with the family and now you're ready for some quality screen time. If you're not sure where to start, check out this list of PBS' best shows from the past year. From politics to music and from baked goods to cats—we've got you covered. Want to watch 'em now? Many of these programs are available to stream on PBS Passport via your local PBS station. Follow the links below for more details on how to watch.
This two-hour-long documentary isn't about Donald Trump and Hillary Clinton's political platforms as much as it is a biographical deep-dive into their lives. Through dozens of interviews with people close to them,"The Choice 2016" answers questions like: Where did they grow up? What were their families like? What did they study in school? What kinds of aspirations did they have early in life? No matter who you voted for or where you stand on the issues, this documentary will teach you all kinds of things you likely never knew about two of the most-talked-about people in 2016. And you can read our take on it, too.
Still waiting to see "Hamilton" the musical? (Aren't we all?) Well, until you're one of the lucky few able to snag some tickets, PBS has your backstage pass to the creation of the smash hit production. "Hamilton's America" tells the story of how the broadway show came to be—from conception to it's renowned success. Hear from creator Lin Manuel Miranda himself and see some bits and pieces of the musical that will have you rapping and doing jazz hands simultaneously.
3. "16 for '16 — The Contenders"
No matter what your momma tells you, you're not always a winner. And when it comes to running for President of the United States of America, there are winners and there are losers. But what happens to those who almost won? Well, to start, it hurts—bad. In "16 for '16 — The Contenders," you'll go inside 16 of the most influential presidential campaigns in modern history.
4. "Trapped"
This award-winning documentary from Independent Lens examines one of the most divisive issues of our time: abortion and legislation on women's access to healthcare. Learn about Targeted Regulation of Abortion Providers (TRAP) laws and hear directly from the healthcare professionals on the front lines as well as experts in the legal field. This powerful and informative documentary is a must-see.
If you think segregation is a thing of the past, POV's "All the Difference" will challenge that belief. This documentary follows the higher education journey of Robert and Krishaun, two African-American men from Chicago—one of the most racially segregated cities in America. It's inspiring, educational and heartstring-pulling, and you'll find yourself rooting on the two men through their struggles and triumphs.
A reboot of the old classic story of little Anne. This adaptation stars critically acclaimed actor Martin Sheen portraying Matthew Cuthbert, one half of the brother-sister pair that cares for Anne Shirley and Ella Ballentine in the title role. If you loved it before, you'll likely love it all over again and if you've never seen it, give it a shot! It'll warm your soul.
7. "Black America Since MLK: And Still I Rise"
Get schooled on black history in America by our favorite Yale scholar and host of one our fave shows, "Genealogy Roadshow"—Henry Louis Gates Jr. This mini-series offers a sometimes-inspiring, oft-sobering analysis of key moments in the rise and fall and rise again of African-American history from the mid-'60s through the new millennium.
This highly anticipated eight-episode series takes a look at the music recording industry. From The Beatles to Dr. Dre, there's something in here for music lovers of all walks of life.
9. "The Great British Baking Show"
This summer's season of "The Great British Baking Show" was wild. It had us on the edge of our seats the whole time and while we're not sure what's in store for the future of the show, we'll savor season 3 until we get cavities.
This fascinating three-part series is packed with stories of people who all have had unique experiences in the womb, resulting in genetic and biologic conditions changing the way they experience the world around them. It's incredibly well done and will teach you things like how we keep our balance and how six fingers are better than five.
11. "The Tunnel"
Things got pretty dark pretty fast with this one. BBC detective drama series "The Tunnel"  is set against the backdrop of Europe in crisis—and (mini spoiler) a body is found SPLIT IN HALF on the border between the U.K. and France. So, if you're into stuff like that, check it out. You might recognize a couple of the lead actors: detective Karl Roebuck is played by Stephen Dillane of "Game of Thrones" and detective Elise Wassermann is played by Clémence Poésy of the "Harry Potter" series.
The hour-long "Nature" special is exactly what it sounds like. "Animal Reunions" examines the relationship between humans and animals, specifically the bond between caretakers and wild animals, not only while the animals are in their care, but whether that bond endures after the animals are released to the wild. For anyone who has ever wondered if their dog really missed them while they were gone—this is for you. Bonus: lots of adorable animals and the amazing Jane Goodall!
Celebrate the rise of the tiger count for the first time in 100 years by watching "The Story of Cats." This two-part "Nature" special helps explain why cats are so cool! Cats are some of the most revered AND feared creatures on our planet and their story of evolution and adaptation is fascinating.
14. "The Black Panthers: Vanguard of the Revolution"
Emotional. Insightful. Eye-opening. This feature-length documentary chronicles the rise and fall of the iconic Black Panther Party for Self Defense in the late '60s and early '70s through candid and powerful interviews with many of the founding fathers and mothers of the movement and with police officers who share accounts of their shooting war with the Panthers.
15. "Downton Abbey"
We know, we know. It was one of the saddest times in modern-day television—the end of an era if you will. We miss "Downton Abbey" so much but you've gotta admit, the final season was so well done, it's worth watching over and over again.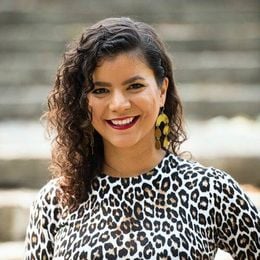 Maribel Lopez
is a lifelong public media fan and as director of Rewire, oversees the site's strategy and operations. When she isn't catching up on the latest digital publishing trends, she enjoys traveling, flamenco dancing and going on adventures with her doggos.