A Beginner's Guide to Living Car-Free
by
Jen Fuller
Owning a car in the city can be annoying. Sitting in traffic is stressful, cars require constant upkeep and those parked on the street face break-ins, bumper dings and winter snow scraping, just to name a few. More and more, people are opting out of it.
Evidence is mounting that people don't place the same cultural value on owning a personal vehicle as they once did. Folks are making the choice to ditch their cars when they break down, and younger Americans are getting their driver's licenses and buying cars later in life, or not at all. Ride-hailing services like Lyft have made not owning a car even more convenient, and possibly cheaper, too.
I've lived carless in a few major U.S. cities–relying primarily on public transportation, with a little biking, walking and ride-sharing thrown in. In my experience, not having a car forces you to make healthier transportation choices, but living car-free does come with its own set of challenges.
Here are some of my insights from living car-free, and my experiences with getting around in alternative ways.
Decide what you value most
Imagining a less car-centric everyday life means considering your values and weighing money and convenience trade-offs. For me, those values are living a lower-carbon lifestyle and living affordably in a dense, walkable, urban environment.
For my day job, I research renewable energy transitions. Reducing my carbon footprint is a continual process and research shows that living car-free is the second-most impactful action we can take to combat climate change. Transportation accounts for about 25 percent of global CO emissions, with the rest coming from electricity generation, heating and other industrial processes.
Living without a car forces you to be mindful of your daily comings and goings. It requires foresight and planning. Because of that, I really value walkable cities. I prefer to live within a few miles of where I work so that biking and walking are viable commuting options, but this isn't always possible.
I make it a priority to find housing within blocks of a major bus line whether I own a car or not. I should add that being an able-bodied, single adult without kids makes some of these decisions a lot easier.
As always, a tradeoff
Of course, you have to weigh financial considerations when deciding whether to own (or get rid of) a car. Personal vehicles come with monthly payments, including insurance, gas, maintenance and parking. Parking doesn't come cheap in city centers where workers often pay a premium for a dedicated parking space.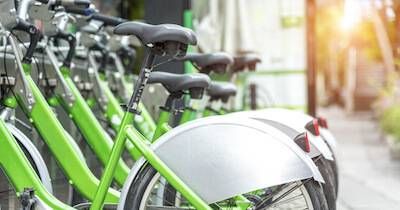 According to the latest AAA report, it costs an average of $8,469 to own and operate a new vehicle annually. The average price of a monthly bus pass is $67.07 across U.S. cities, or about $805 per year.
This isn't to say that living without a car doesn't present its own challenges. There's much less freedom when you're restricted by transit schedules, the weather and car-hailing costs. For people with disabilities, the option to drive a personal vehicle sometimes isn't a choice, making extensive and accessible public transportation crucial.
Considering your options? Here are some ideas to consider:
 Walking
Biking
Not all bikes are created equal when it comes to commuting. Road, commuter, hybrid and some cruiser bikes have thinner tires and less tread that are easier to pedal on the street than a mountain bike. The number of gears or speeds also impacts the ease with which you can ride.
You don't have to buy a super fancy bicycle to get the job done. Many shops sell used bikes.
For carrying cargo, I use a milk crate ziptied onto a bike rack. Other options are paniers or handle baskets. A backpack or messenger bag is also helpful–I recommend one with waist and chest straps to better distribute the load.
Probably the toughest task is grocery shopping on bike or by bus. I pack the heaviest, largest items (cans of soup, large boxes) in a reusable bag that goes into the crate. Produce (especially eggs!) goes into the backpack since there's less risk of jostling around. If I can't fit everything in those two places, I put durable items like paper products into a third bag that I hang on my handlebar.
Public transit
Riding the bus or light rail for the first time can be daunting, but planning helps! Spend some time looking at your local public transportation website. In addition to helpful trip planning functionality, these sites will provide the most up-to-date information on systemwide maps, fares, route schedules, and any disruption or service change alerts.
Have exact change. Most public transit systems have different fares for different times of the day and distances travelled. Ask for a transfer if one is offered. Some systems have unlimited transfers within a certain time period. Others require you to purchase a new fare for each bus or train you take.
Look into buying a transit pass. Colleges and employers often have special deals. Transit passes aren't always worth the money if you're also biking and walking, so read through the details to figure out what's right for you.
It's easy to get turned around and wait on the wrong side of the street for the direction you'd like to travel. Check out maps ahead of time and get there early to orient yourself. You can always confirm with the driver that the bus is traveling in the direction you want to go.
Car-sharing
Carpooling is still one the best way to share the road if the options above don't work for you.
Ride hailing services like Lyft and Uber have advantages and disadvantages. One nice thing: Lyft recently decided to offset carbon emissions from all rides.
While ride hailing apps can be convenient, consider supporting your local cab system–some of which allow you to request a hybrid or electric car.
Renting a vehicle for longer trips is also an option.
Ask friends who live nearby to invite you along for shopping trips.
Reducing your car use while supporting alternative transportation signals to decision-makers the importance of developing an infrastructure that emphasizes equity, well-being and environmental health. Your transportation choices can impact the future of your community and our planet.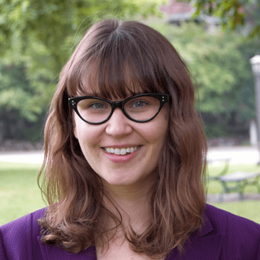 Jen Fuller
is a Ph.D. candidate in environmental social science at Arizona State University, currently residing in Minneapolis. As an educator and researcher, she is frequently pondering the intersections of technology, culture, the environment, policy, and politics. She is deeply uneasy with the lack of Oxford commas in this writing. You can follow her on Twitter @soundbitelife.