This Barber Shop Museum is a Feast for the Eyes
by Martin Blanco and Clayton Stansberry
A living tradition
"I had a dream to open up a museum," New York barber Arthur Rubinoff said. "I did not even tell my family, my mom didn't know. My wife didn't know. A lot of people ask questions, 'Why a barber shop museum?' And 'Why (am I) so compassionate about this work?' I think it's not just a vocation, it's artistry too."
Behind the iconic spinning barbershop poles and gilded frames at the NYC Barber Shop Museum are five generations of barbers. Master barber Arthur operates four locations of his New York City barber shop, Reamir & Co., along with his son and wife, who also cut hair.
"I think without our family being like this, closer together like a bunch, for Arthur alone, it will be very hard to be where he is right now," said Marina Rubinhoff, Arthur's wife.
"A lot of people try to copy him and I always tell him, 'Well, Arthur, they don't understand one thing, that in our family, you're a barber, I'm a barber, your son is the barber, even your mom knows how to cut hair, so we could always help each other, we could always be there.'
---
"Family, it's a number one thing in my eyes."
Through the generations
Their son, Isaak Rubinhoff, was initially reluctant to join the family business. Eventually, he decided to step up, not for his love of barbering but for his father.
"When it's a family-owned business, you give more care and love to it," Isaak Rubinhoff said. "You're not just doing it for the money. You have to keep your name growing, you have to keep your name alive. And doing so, you gotta put all the care in the world to your job."
Arthur learned the trade from his father, Rubin, after they settled in the United States from Uzbekistan in 1989.
"My father was a men's stylist," Arthur said. "But the city of Fergana in Uzbekistan, they did not know what 'wash, cut, and blow dry' is. In 1989, it became... pretty bad. So we moved to New York City.
"And one day,... (my dad) came to my mom, he goes, 'I have a great idea! Why don't we open up barber shops, build them up, take people to work, and then after a year, two years, we'll sell them to the people that work for us. We're gonna create jobs, and we gonna help people.' And not only that, he started teaching people for no money. For free."
And so they did. Arthur worked alongside his father, managing the shops and growing the chain. When Rubin passed away, Arthur was committed to continuing the family legacy.
Writing the next chapter
Not content to merely fulfill his father's dream, however, Arthur opened the NYC Barber Shop Museum in 2018, where visitors can get a trim from the man himself or browse the antiques and memorabilia he's been collecting for more than 25 years.
"In 1991, I was 16 years old. My father went to the flea market in Jamaica Avenue and he bought, like few pieces — manual clipper, some old scissors," Arthur said. "And I'm like, 'What are you doing? This is garbage.' He looked at me and he yelled at me. He goes like, 'Never, never say that because this is history,' and he bought it.
"When my father passed away, I wanted to dedicate something to the people, not only to my family, not only what I love to do, no. To the whole beauty industry. I started buying barber poles, chairs. We have 44, 45 in our collection. We have over dozen of barber poles, signs."
Raffael Rubinhoff, Arthur and Marina's second son, remembers his father collecting barbering artifacts over the years and not understanding why.
"He always said, 'You'll see, you'll see,' but I never really understood it until he opened up this place," Raffael said.
Marina recalled being the only member of the family happy about the museum, mainly because it would get Arthur's collection out of the house. Once it was open, however, she was struck by what they were able to achieve.
"We came to this country as immigrants with two suitcases," she said. "And achieving this much, where we could educate, not only Americans — even tourists will come into this shop — and we could teach them and let them know what is a barbery."
This video is part of America's Entrepreneurs: Making it Work, a Rewire initiative made possible by the Richard M. Schulze Family Foundation and EIX, the Entrepreneur and Innovation Exchange.
It was produced and filmed by Martin Blanco, edited by Clayton Stansberry.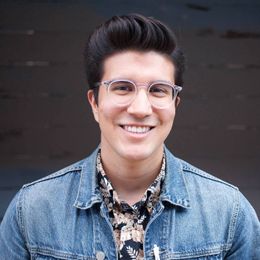 Martin Blanco
is a Venezuelan-born filmmaker and analog photographer based in Brooklyn, NY by way of Minneapolis, MN.