How to Prep Now to Avoid the Post-Vacation Blues Later
It's natural to feel anxious coming back from time off. But there are healthy ways to deal with it.
by
Gretchen Brown
It's like clockwork. Every time Emily McGrath takes a vacation, she gets a feeling of intense dread before returning to the office.
"Thinking about all the emails I haven't answered, having to commute back in," she said. "And honestly, a lot stemmed from my former boss... because she would constantly text, or call or email, demanding answers even when I was on vacation."
It got to the point where McGrath, 25, got too anxious to even take a vacation. At one point, she had accumulated over 100 hours of vacation time.
She's learned to deal with it by keeping tabs on her email with her phone while she's out.
"I feel like I'm staying on top of things, but I don't give myself the ability to sit down and work, because I will," she said. "Because I have no control."
[ICYMI: Unplugging on Your Vacation Can Actually Make You Better at Your Job]
Extreme Sunday scaries
It's well-known that the U.S. doesn't have the best culture around vacation time.
According to one study, half of American workers had unused vacation time in 2017. That's because many folks feel shamed for taking time off at all.
That culture doesn't go away when you come back to the office after a much-deserved break. It's natural to think about all the things you've missed. It's natural to dread catching up.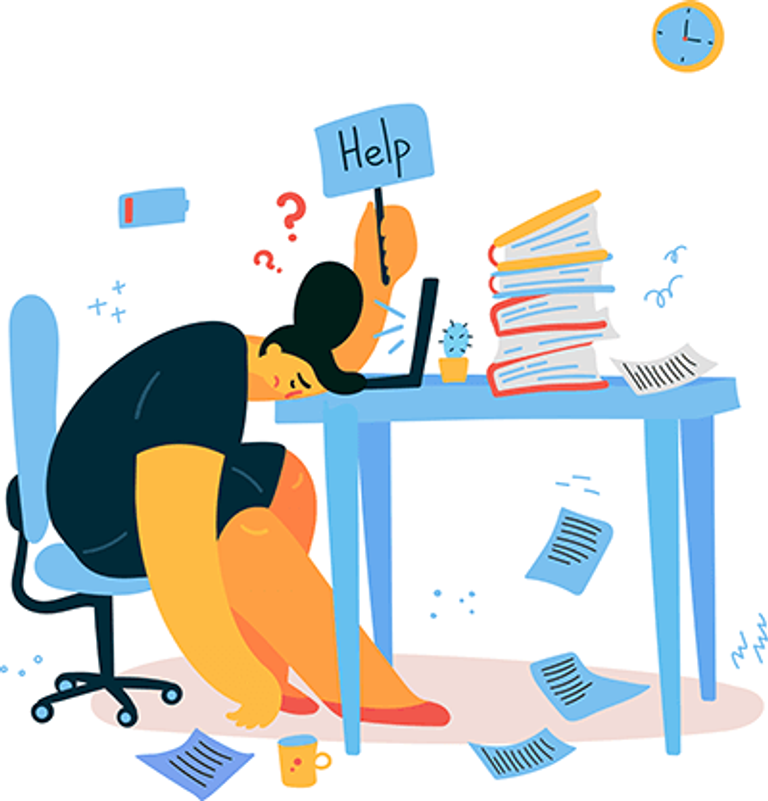 But it's important to remember that what you're feeling is normal.
"Human beings are creatures of habit. Our bodies love schedules and routines," licensed professional counselor Sanna Khoja said.
Many people even have this feeling after a normal weekend, often called the "Sunday scaries." Seventy-six percent of respondents to a Monster.com survey reported "really bad" Sunday night blues.
So come back from an even longer break, and you're going to get this feeling times 1,000.
"What are the 'Sunday scaries' telling you? Perhaps it's saying that there is immense discomfort in having a drastic change," Khoja said. "Name the emotion, whether it's dread, sadness, guilt, et cetera. Tell yourself that it is okay to feel this way."
Accepting your feelings doesn't mean there's no way to alleviate them. On the contrary, there are concrete steps you can take to make sure you don't feel paralyzed after a long break.
1. Prep before you leave
First up: Think ahead. There's prep work you can do before you leave to make coming back more of a breeze, instead of coming back to work with a huge mess in front of you.
Start by reviewing your calendar, says professional organizer Susan Santoro. Take note of any meetings or tasks you'll have in the days after you return and think about how you can best prepare for them.
"Write out a to-do list of tasks you need to tackle in priority order for your first day back," Santoro said. "Leave the list where you will easily find it when you return."
Take some time on your last few days in the office to organize your email inbox, and even your desk.
Unnecessarily clutter just makes things more stressful. A clean desk and inbox will ensure you'll be able to find what you need.
Khoja said it's also good to do some organizing at home before your big vacation. Don't leave yourself with any chores to do when you return. It'll just make your anxiety even worse.
"Coming home to a sink full of dishes after vacationing can increase that sense of dread or doom of going back to work," Khoja said.
---
"If it's entirely unavoidable for you to not leave any work behind, try to plan accordingly. When you return, give yourself enough time to tend to the work in order to decrease the sense of urgency and stress."
2. Allow yourself to let go
The pressure to check your email during your vacation is real. But when you're on vacation, you've gotta let yourself be on vacation. All the way.
"You know the work will be there when you get back," said executive coach David Arrington. "Come to terms with that and enjoy your time away. Don't check your email or voice messages."
Arrington recommends unplugging completely — no internet at all — if you can.
The way he sees it, the fact that you have work waiting for you is a good thing. Your job is necessary. Instead of letting that stress you out, think of it as job security.
"If you work with others and have been able to delegate some of your workload to them, trust in their competence and abilities," he said. "The world won't stop spinning if something isn't done exactly how you would do it."
3. Be intentional before you come back
If you can spin it, add some padding to your schedule. Sure, you can technically arrive home at 11 pm on Sunday night, and wake up on Monday morning and go to work.
But that's not the best way to transition back.
Emily Eliza Moyer, a career and leadership coach, says it's good to make some time for self-care the day before you go back to work.
Let yourself enjoy your last moments of vacation. But be intentional about how you spend those moments.
"Go for a long walk, meditate, eat a healthy meal, review your schedule for the week ahead," she said. "Add in an extra self-care ritual like taking a bath or a relaxing yin yoga class to unwind."
You'll feel much more relaxed than you would if you had jumped directly back into work.
4. Give yourself time to adjust when you return
In the same vein, you should allow yourself some breathing room when you arrive at work. Don't expect to be able to jump back in with the same endurance you had before you left.
Instead, ease into it. Block a few hours in the beginning of your day to sort through your inbox and figure out what you have ahead of you.
"Be purposeful about your schedule. You probably won't have the same level of motivation you normally do right when you get back," Moyer said. "If you can, schedule some lighter days for your first few days and hold off on major meetings or projects until you know you'll be back in it."
Remember that to-do list you wrote before you left? Now's the time to take a peek and see what you have on your plate.
You can reprioritize if anything new came up in the time since you were gone. But in general, the list will tell you what you've got going on.
"Start work by tackling the first item on your to do list," Santoro said. "And stay focused all day with the items on the list."
By keeping yourself organized— and not stressing about the work you've got ahead of you— a vacation can be a vacation, instead of something extra to worry about.

Gretchen Brown
 is an editor for Rewire. She's into public media, music and really good coffee. Email her at
[email protected]
g, or follow her on Twitter @gretch_brown.