What's Better Than Cute Animals? Animals With Cameras
by
Christine Jackson
There are some brilliant videographers behind the latest "Nature" miniseries on PBS, but most of them can't hold a camera. Some don't even have hands.
"Animals with Cameras" brings viewers into jungles, oceans, plains and forests to see how various animals live, and go with those animals into their worlds.
Wildlife filmmaker Gordon Buchanan, his team of animal behaviorists and camera designer Chris Watts have engineered cameras to fit creatures of all shapes and sizes in unobtrusive ways.
The results are low-impact devices that allow animals to go about their normal routines while bringing viewers along with them. Each one requires specific alterations: A meerkat's needs to be small and able to light the way in dark tunnels, but a chimp's needs to be nearly indestructible.
Enlisting animals' help to tell their stories is nothing new, but the technology involved has come a long way. National Geographic marine biologist Greg Marshall invented the Crittercam in 1986, and it's been used to capture dozens of creatures in their natural habitats for study and for documentaries.
The meerkats, penguins, chimps, cheetahs, seals, baboons, rays, bears and dogs of "Animals with Cameras" may not be the first to shoot their own screen debuts (in fact, if you saw Oscar-winning documentary "March of the Penguins," you've seen footage shot by a penguin before), but these new cameras make it easier than ever to observe the natural world at close range.
Secret habits
In the first episode, the tiny rigs allow audiences to join a family of 21 meerkats inside their underground home.
"As a cameraman, I feel like I'm giving over a load, not to someone else, but a completely different species," Buchanan said with a laugh in the episode. "I'm just putting all my faith in technology and a meerkat."
That faith is well rewarded. The footage revealed previously unknown behaviors, only captured within the safety and comfort of chambers deep inside the burrow.
The meerkats are just the beginning. The team's cameras also capture the reassimilation of precocious orphan chimp Kimbang in Cameroon and the expert hunting skills of Magellanic penguins in Argentina. Each visit is an eye-opening encounter.
"The chance to capture elusive moments, like a penguin's underwater hunting habits or a meerkat family's sleeping rituals in their underground burrow, was an extraordinary experience I never thought I would be privy to," Buchanan said. "Thanks to the special cameras, we were able to answer some tough questions that scientists have always wondered about."
If this has you wondering about the secret lives of your own furry friends, you can take wearable tech for animals off the screen and into your own home. You might not witness any scientific firsts, but you will learn what goes on while you're occupied with human responsibilities.
To see what they see
Eyenimal Digital Videocam for Pets
This lightweight camera clips to a pet's collar and is easy to operate. Turn it on and start recording up to 2.5 continuous hours of your pet's day. When you're ready to look at the footage, just hook the camera up via USB cable and watch what Fluffy and Fido were up to while you were at brunch.
To track your adventures together
GoPro Fetch
Already have a GoPro camera? This harness allows your four-legged friend to take over filming while you take that paddleboard out for a spin. Next time your dog starts barking at something in the woods or the water, you'll be able to check the footage for whatever those sharp eyes and nose caught that you missed.
To get inside their heads
Who knows what goes on in your cat's head? Well, Moggie might. This app/collar combo seeks to help cat owners better understand and care for their feline friends. The collar tracks your cat's activity throughout the day and compiles information within a phone app to help you identify and solve problems. Even before you notice your kitty has been more sleepy or active than normal, Moggie's tracking will let you know. It will even make vet recommendations based on what your cat is or isn't doing.
"Animals with Cameras" airs Wednesdays on PBS. Check your local PBS station's schedule for broadcast dates and times, or watch online the day after the broadcast premiere.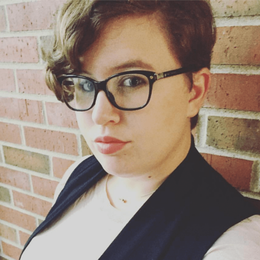 Christine Jackson
 is a Missouri-based writer and editor who loves the arts but never seems to write about them. Her holy trinity includes the St. Louis Blues, David Bowie and whoever invented iced coffee. You can find her on Twitter sharing snarky quote tweets @cjax1694.