'I'm Already Living My Dream of Being Myself': 'Best and Most Beautiful Things' Star Opens Up On, Well, Everything
by
Katie Moritz
If you're lucky enough to chat with Michelle Smith for more than 30 seconds, you'll quickly realize you need to be on your pop culture game.
The star of "Best and Most Beautiful Things," a documentary featured on PBS's "Independent Lens," has a long list of loves. And she can even do impressions of some of the characters.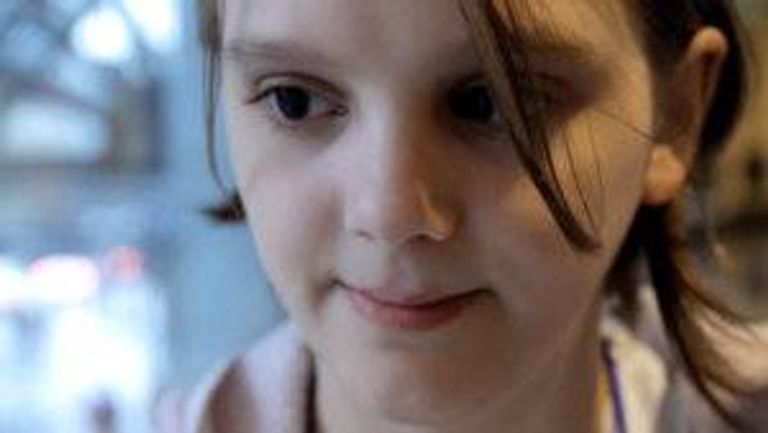 "I have some 'Steven Universe' (collectibles) and I have a lot of 'Simpsons' stuff which is another show that I love," she said from her home in Maine. "I like 'Rick and Morty,' I like 'BoJack Horseman,' of course I love 'Steven Universe,' I love 'Gravity Falls,' 'Archer,' 'Bob's Burgers.' All of those, all good shows. I'm not caught up with all of them."
But one thing stands out as a favorite. And it's not even a TV show.
"Making people laugh is my crack," she said. (She used the phrase "It punched me right in the autism" during our conversation, for example.)
Besides having what seems to be an unlimited store of passion and energy, Smith is legally blind and has Asperger syndrome, a form of high-functioning autism. In "Best and Most Beautiful Things," she navigates relationships with her parents and a first love while taking control of her independence and sexual identity.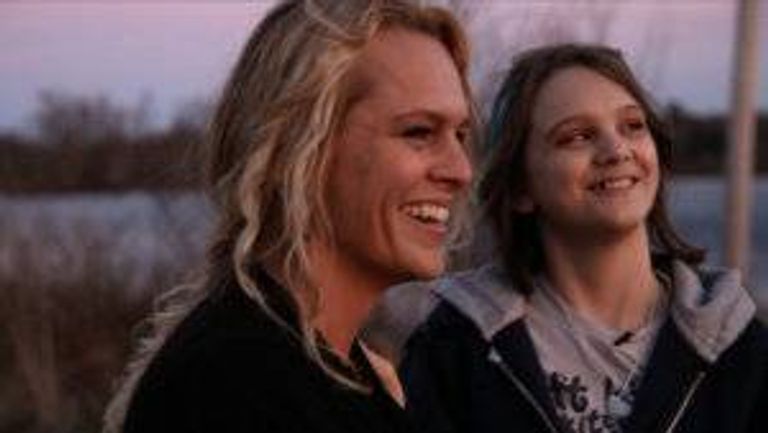 Smith describes herself in the film as having a tendency to get fixated on things, a common feature of Asperger syndrome. But now that she's 24, Smith said, she wants to try everything. Recently, she shaved her head.
"My mom had gotten used to me dying my hair every color of the rainbow, so I had to do something to surprise her," she said. "I love surprising people, I think it's a coping mechanism to deal with how little and low expectations people have for me."
Smith talked with Rewire about her life during and after "Best and Most Beautiful Things."
Rewire: You were filming for the movie from the time you were 18 and still in school until you were about turn 24. What was it like to have the film crew be part of your life for that long?
Michelle Smith: Honestly, I have to give big credit to everyone who worked on the film because I didn't have to do anything but be myself and answer questions. There were some shots that were set up, but one of my rules, and (director) Garrett (Zevgetis) agreed with it, was that we were never going to set up a shot for something I would never do. It would be me telling him, "I went on the (swing set) in the winter," and him saying, "Oh, I didn't get to see that, let's recreate it."
Some of the bad reviews of the movie say, "That's not Michelle's real personality." I say, take me out for coffee, that's really my personality! Not very many people are as cheerful and cuddly as I am. I do spend a lot of my day running around making funny noises and snuggling with my cat.
Rewire: In the film you're so knowledgable about BDSM and are able to communicate so efficiently why it's important to you. How did you learn about the kink community and figure out what your interests are?
MS: Like a lot of young people who get in the lifestyle, I discovered it through TV—one of those really terrible TV shows, like "1,000 Ways to Die" or "A Million Ways to Die" or whatever it's called. They try to make the segments sexy and stuff, so this guy went to a brothel and there was a sexy maid and then there was a dominatrix who grabbed him by the arm and started doing stuff to him—which is not how you do anything, by the way. I was like, dominatrixes exist! Holy crap! (At the beginning) I didn't realize anyone would want to play with me. That was before I realized that I'm hot.
Rewire: You seem like an incredibly open person. Were there ever any points when you felt uncomfortable opening up on camera about the very personal topics the film touches on?
MS: That ship has sailed, it's no longer personal. The only times I ever felt uncomfortable was when, you know, there was a worry for me that saying certain things or doing certain things would out someone who wasn't comfortable being in the documentary. I have some friends who are in the (BDSM) lifestyle and that if it would come out they're in the lifestyle they would lose their livelihood. I would never choose a job like that. I would rather live in a box than be that stressed.
Rewire: The relationship you shared on screen with your boyfriend, Michael, seemed really special. Are you two still together?
MS: No, Michael and I broke up, but we're still friends. Now I'm dating a guy named Reuben. I went to his house for the last six days of Hanukkah. That was my first Hanukkah because I'm not Jewish, but it was really fun. And there was this woman who was at a party I went to who said "Jewish Lesson No. 13: Eat latkes." I was like, that's not really a lesson. If you put food in front of me that looks good, I'm going to eat it!
Rewire: A major plot-point in the movie was your solo trip to Los Angeles. What did you learn about yourself from that?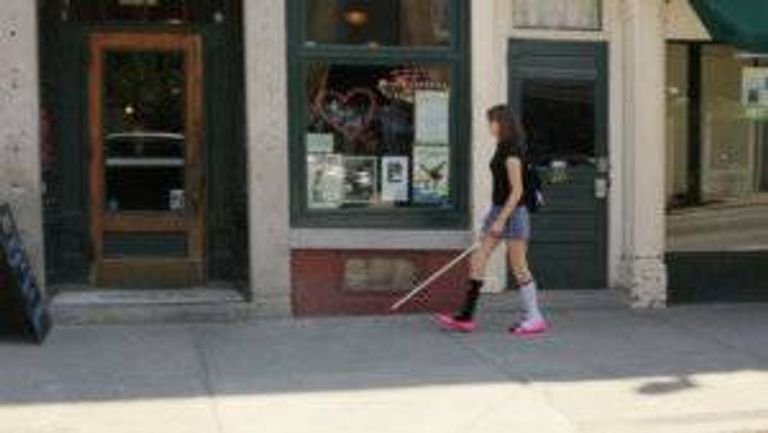 MS: It wasn't my first time (traveling alone), because I went to camp all the time as a kid, including a camp that went for three weeks. I never got homesick as a kid, I really didn't. I've always been an adventurous person. I was never afraid of rollercoasters. As soon as I was tall enough to go on them, I wanted to go on them.
The thing with LA is—the reason I came back a little defensive, ready for people to be mad at me for not taking the opportunities, but also defiant and strong—was even though it wasn't the first time I was on my own, I was really out of my element.
Rewire: What has changed for you since filming wrapped in 2015?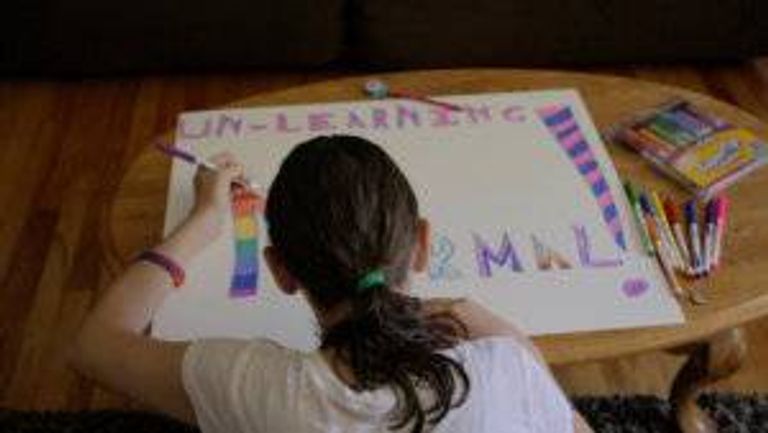 MS: The apartment that I used to live in wasn't working out for me so I moved back in with my dad, but it's only temporary. A lot of the fans of the film have been worried about me because they think I'm taking a step back, but if it's a step back it's only so I can take two steps forward.
I've been getting an occasional paid gig to speak to a school or a group. I got to speak to an inner-city Boston middle school GSA (gay-straight alliance). We spent half the time talking about LGBTQ acceptance and equality and the movie and half the time talking about video games. That's what they wanted to talk about. I'm pretty sure they love me now.
Rewire: In the film, you said that having a career and living independently was your dream. What's next for you?
MS: I live in a place physically where it would be very difficult for me to have a 9-to-5 job. I'm doing the different gigs and stuff, and trying to get a new apartment. Honestly, to me, I could live in Section 8 housing for the rest of my life and be okay, because I would rather be doing stuff that was fulfilling and helping other people rather than doing a 9-to-5 data entry job. Even if my job was volunteering and I didn't get money from it, I would feel I was contributing enough. I do want to be independent and have my own apartment, but I also don't feel the need to, like I did earlier when I was younger, I don't feel the need to have a day job.
I write stuff a lot. I write short science fiction stories, but I never published them. So maybe I'll have a future in that. I have many fingers in many pies. I can't stick with one thing, I'm full of energy. When I was a kid I used to be able to be obsessed with one thing, but not anymore.
Watch "Best and Most Beautiful Things" on "Independent Lens" online until Feb. 2.

Katie Moritz
 was Rewire's senior editor from 2016-2019. She is a Pisces who enjoys thrift stores and pho. Follow her on Twitter @katecmoritz.