Why Advent Calendars Are Making a Comeback
With religiosity waning, we still crave connection and tradition.
by
Heather Morrison
Growing up, Jessica Sikora woke up every December morning and opened a small square cardboard door on her Advent calendar.
"It's something to look forward to," said Sikora, 24, of St. Louis. "You got a piece of chocolate and it was a fun shape."
Historically linked to Christianity, Advent calendars typically start the first day of December and count down the days until Christmas — but Sikora is Jewish.
She was counting down the days to winter break, rather than the days to Christmas, she said.
Now Advent calendars are big business, with millennials spearheading their comeback. While felt calendars and the ones that hold small pieces of chocolate have been popular for decades, they've gotten far more elaborate.
Advent calendars now involve wine, whiskey, dog treats, Harry Potter, makeup, Legos, beard oil and Barbie. They can cost anywhere from $5 to $112,000 — if you get the one from Tiffany & Co.
They've gotten elaborate for a reason. According to a 2018 Vogue article, businesses have seen a 15 to 20 percent sales uplift after creating and selling their own Advent calendars.
What is Advent?
If you buy an Advent calendar today, it's likely to start Dec. 1 and end on Christmas. But Advent as celebrated by Western Christian traditions isn't as set in stone — the length of the season changes based on what day of the week Christmas falls on.
Advent always starts four Sundays before Christmas. It's then celebrated each of those Sundays leading up to the 25th.
If you attend a church service during Advent, you'll see on the altar a wreath decorated with three dark purple or blue candles, one rose-colored candle and a white candle in the middle. One candle is lit every Sunday in Advent, with the white candle lit on Christmas Eve.
By the mid-19th century, it had become a tradition for German Protestants to make chalk marks on doors or light candles to count down to Christmas. By the early 1900s, the first printed Advent calendar made its way to people's homes.
The calendars slowly became more involved. But when Cadbury produced their first chocolate Advent calendar, it was game-changing.
A money-grab?
When Kasey Decker was growing up, her family would put the last angel on the Advent calendar when they got home from church on Christmas Eve.
As she drifted further away from the religion of her childhood, the Advent calendar "is still a thing that stuck with me."
"I just remember it was a fun thing we did as kids," said Decker, 30, of Marietta, Georgia. "Then we were at the grocery store the other day and (my boyfriend) picked up one for the dog."
She's pretty sure her 3-year-old dog, Albus, won't notice the difference between each day's treats, but it's bringing back fun memories from her own childhood.
The one her boyfriend bought from Trader Joe's was just $5.99. But other folks shell out $40 for cheese-themed Advent calendars, or upwards of $100 for wine-themed ones.
"Christmas has become a consumerist holiday," said Linda Mercadante, author and research professor at Methodist Theological School in Ohio. "This just plays into the consumerization."
YouTuber Zoella, who has 12 million subscribers, released an Advent calendar for almost $65. But when fans got the calendar, it was filled with a key ring, pen, stickers and other trinkets, according to Mashable.
Fans were furious.
"Zoella is a perfect example of people deliberately using their platforms for nothing other than to give themselves a bigger pay cheque every month," @harrietwright99 wrote on Twitter.
And Zoella's not the only one.
According to Cosmopolitan, there were multiple claims that YouTuber Eltoria's calendar was filled with used free samples she had received. Eltoria refunded her customers.
Tradition and connection
Of course, the consumerization of Christmas has been happening for a long time, Mercadante said. But the Advent calendar phenomenon is a little different.
Modern Advent calendars provide great Instagram fodder. But posting about them isn't just a brag about gifts. It's also an attempt to connect with others who have similar traditions, said Dan Negroni, founder of LaunchBox, which helps companies attract, retain, manage and motivate millennials.
In the past, religion provided a lot more interpersonal connection for people. As more and more people have stopped identifying with a particular religion — a group known as Nones — the need for connection remains.
"It all boils down to the fact that humans need humans," he said. "Humans want to matter."
Millennials are more open to finding community in new ways, Negroni said, including creating a community around fancy Advent calendars.
Advent calendars carry "the echoes of a tradition," Mercadante said. And "the echoes of tradition never really completely go away."
Even without her tie to the religion, the tradition stuck for Sikora.
Her dad was the one who bought Advent calendars for her — a tradition she thinks he took from his own childhood. When Sikora's dad died, her mom continued it.
"When I think of them, I think of my dad," she said. "I think of the holiday season and how it's supposed to be about happiness and family and togetherness."
Going their own way
Veronica DeStefano, from Atlanta, had all kinds of Advent calendars growing up — from chocolate ones to Lego ones to one that her mom made by hand.
The homemade Advent calendar contained surprises, too. DeStefano and her three younger brothers would rotate who got to open the box every day.
---
"I feel like the fun little gifts are something I'll always remember," she said. "Those are good memories."
These special holiday memories are something she wants to pass on to her own kids — but with a twist.
In addition to the traditional chocolate calendar, she might create a more service-oriented Advent calendar.
One day might be about volunteering. Another day, the task might be to "find one piece of clothing that you can give away," she said.
Decker and her fiancé are working on making traditions their own.
"We've been trying to come up with our own little family traditions that we do every year to step back from all the stress and just have a fun little family activity," she said.
But can you just start a tradition? Decker wasn't so sure at first.
"When I first started doing things that I wanted to be my tradition, I felt like... I was being silly," she said. "I couldn't just start this."
But their traditions have been taking hold. They run a 5K every Thanksgiving, cut down a Christmas tree the day after Thanksgiving and they always save the bottom inch of each tree.
"That's my tradition now," Decker said. "I've done it three years in a row."
Could Advent calendars be another tradition for them? She thinks so.
It's an "activity we can do that's not waiting five hours to go into that holiday themed pop-up bar," she said. "It's something that we can just do as a little family."
Religion isn't lost
Advent is the best time of the year for Sophie Grosserode, 22, from Westchester County, New York. She was raised, and continues to be, a devout Episcopalian.
For her, Advent isn't about chocolate or trinkets. It's all about hope.
---
"There's a lot of stuff going on in the world," she said. "So, a whole season of the year that's dedicated to hoping for better things, I think is more poignant for me now than ever."
Now that she's moved into her first apartment, she's been searching Amazon for her first Advent wreath. It's not a decision she's making lightly.
"This is going to be something that I want to keep in my home throughout my life," she said. "I have always been excited about doing something like this with my own family someday."
For now, she'll have to tweak her childhood tradition. Her family always lit the candles during dinner. But, living in a small apartment, Grosserode doesn't have room for a dinner table.
She's still figuring out how to make Advent her own.
"It's a little weird to think about how to incorporate that into my own life as an adult," she said. "And I'm not quite sure yet how I'm going to do it."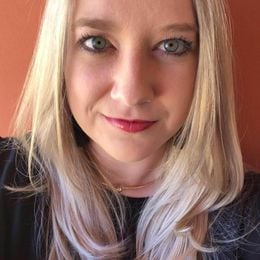 Heather Morrison
 is a freelance reporter based in Los Angeles. She reports on religion and disability rights. Follow her on Facebook, Twitter and Instagram for photos of her dog.