9 Comfort Foods to Keep Your Spirits High
Try these seasonal favorites from notable young chefs, food writers and culinary podcasters.
by
James Napoli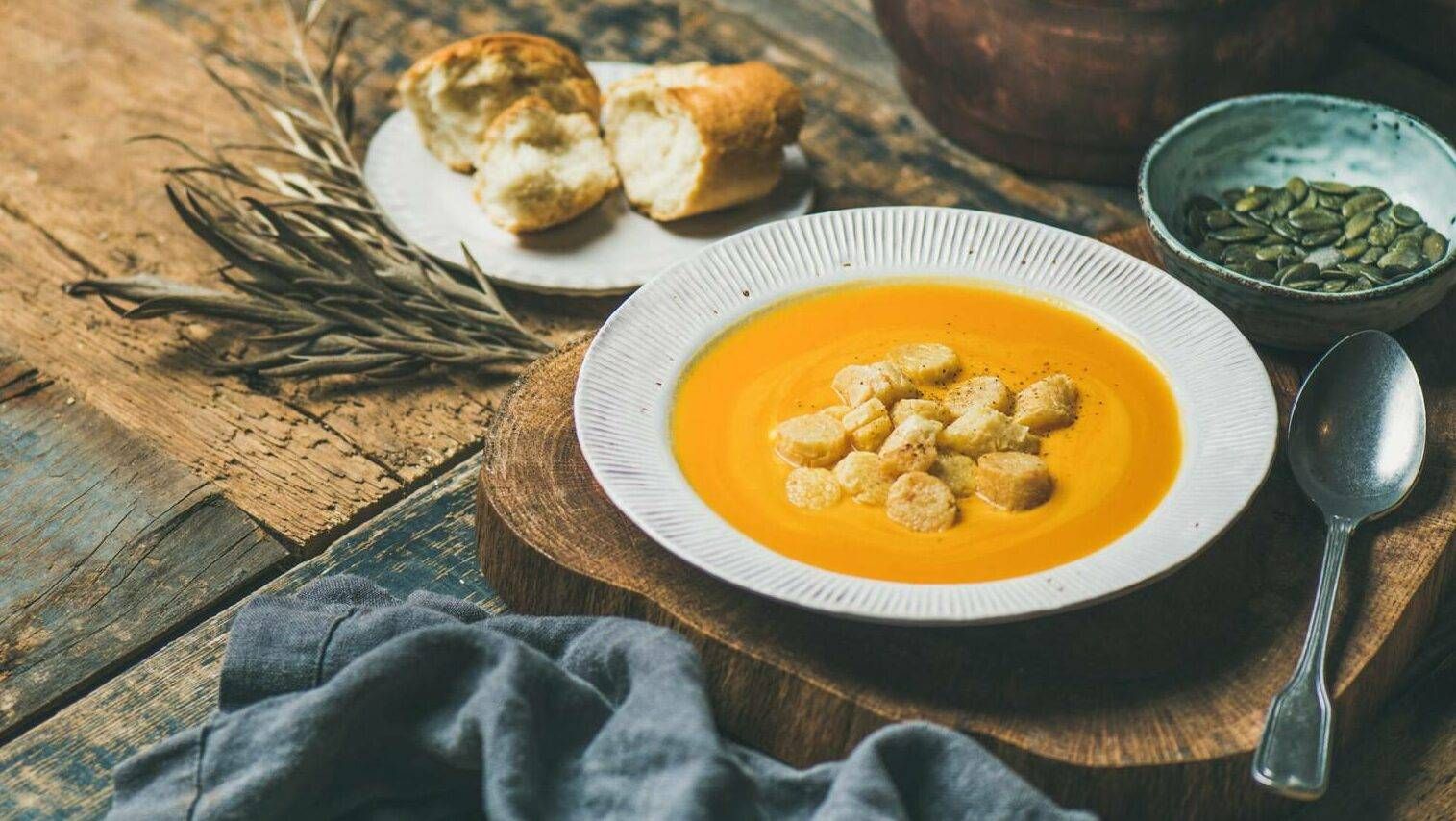 With the second wave of the coronavirus pandemic putting the kibosh on holiday travel and social gatherings, we'll all be spending a lot more time at home and indoors over the next few months.
This year, especially, we could use a little extra warmth and cheer in our lives. One of the easiest ways to lift your spirits during the darkest, coldest days is through homemade comfort foods.
I'm not much of a cook myself (though I can whip up a mean Vermont maple pudding), so I reached out to an inspiring group of professional chefs and food writers from across the country for their recommendations for simple and satisfying winter comfort foods. Enjoy!
Kaddu (Sweet and Sour Butternut Squash)
My favorite winter comfort food is kaddu, my mom's sweet and sour squash. It is, hands down, the best way to eat squash. You simmer it down with lots of fenugreek, which has this aromatic, maple-like taste, plus turmeric, ginger and asafetida, and then you hit it with tomatoes for acid and brown sugar for sweetness. It's a study in balance, and wrapped up in puri, it's a perfect holiday meal. (Full recipe here)
Priya Krishna is a food writer at the New York Times and the author of Indian-ish. Find her on Twitter and Instagram.
Vegetarian Shepherd's Pie
This is a real food-meets-comfort food situation. It's just healthy enough with all the veggies packed into it, but also super comforting with a saucy herby filling and creamy mashed potatoes that are browned to perfection. When you pull this out of the oven and the sauce is bubbling up around the sides under the lightly-golden-brown potatoes and your whole house smells like a log cabin in the north woods? This will not be a sad moment for you. (Full recipe here)
Lindsay Ostrom is a Minnesota-based food blogger and the founder of Pinch of Yum.
White Cheddar Za'atar Sourdough Bagels
Homemade sourdough bagels are my absolute favorite winter comfort food. I associate winter with a slower pace as we spend more time at home while weathering the cold. In that season, there's nothing quite like the satisfaction of sourdough bagels. Sourdough bagels demand patience, though they're not nearly as difficult as people imagine. And on winter mornings when the smell of fresh bagels permeates the house, it becomes impossible to eat just one. I like to add white cheddar to mine and top with za'atar, a Middle Eastern spice blend, for a truly outstanding bite. (Full recipe here)
Anela Malik is a former diplomat turned food writer, recipe developer and sourdough baker based in Washington, D.C. Find her on Facebook, Twitter, Instagram and the web.
Three Bean Chili with Seasonal Veggies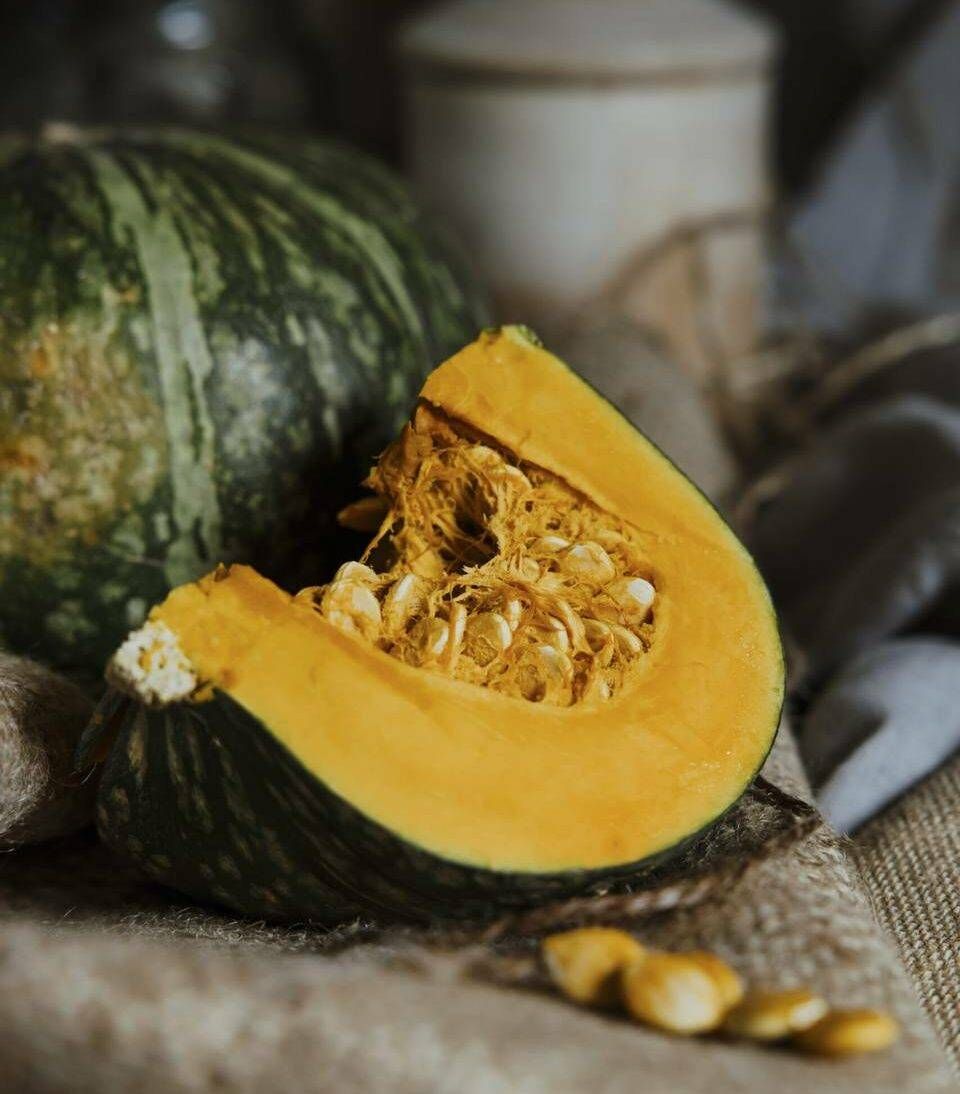 Michigan winters are not for the faint of heart. But here's a pro tip: Make chili, eat often, get creative! My favorite chili recipe combines three beans, harissa and a dash of summer savory with seasonal veggies like kale and kabocha squash. A far cry from the usual beef and chili powder, I know. But the dish makes me nostalgic for winters at my very first food venture, The Farmer's Hand grocery, where local produce lined our shelves and I was always reminded that good things still grow in the cold.
Kiki Louya is a Detroit-based chef, entrepreneur, food activist, community partner and storyteller. Find her on Facebook, Twitter, Instagram and the web.
Adas (Lentil Soup)
During the winter months of Chicago, there is always a steaming pot of Adas in rotation. Adas is a simple lentil soup that we grew up eating all the time in my Palestinian home. It's vegan and made with a handful of common, inexpensive ingredients that are easy to keep on hand for whenever you need something comforting and warm. I love topping mine with a Dakkah, a chili and garlic condiment, a piece of crusty bread and a squeeze of fresh lemon. (Full recipe here)
Abeer Najjar is a Chicago-based chef, food writer and founder of Huda Supper Club. Find her on Twitter, Instagram, YouTube and the web.
Pasta with Crunchy Olive Oil-Fried Breadcrumbs
I spend most of my workday cooking, so by the time I get home I'm usually too exhausted to cook anything too fussy — yet I still want a comforting meal (especially as the weather gets colder). Lately I've been making pasta with crunchy olive oil-fried breadcrumbs to provide just that. It might sound boring, but the pop of crunch the breadcrumbs provides transforms a simple bowl of pasta into something that feels special, providing that sense of comfort that only a bowl of carbs on carbs can. I like to season my breadcrumbs with herbs, cheese and lots of garlic, but a simple sprinkling of salt and pepper would be just as nice. It's simple, fuss-free, and my ultimate idea of comfort food. (Full recipe here)
Jesse Szewczyk is a New York-based writer, recipe developer, food stylist and author of Tasty Pride, a collection of 75 recipes and stories from the queer food community. Find him on Twitter, Instagram and the web.
Chicken Stock and Chive Dumplings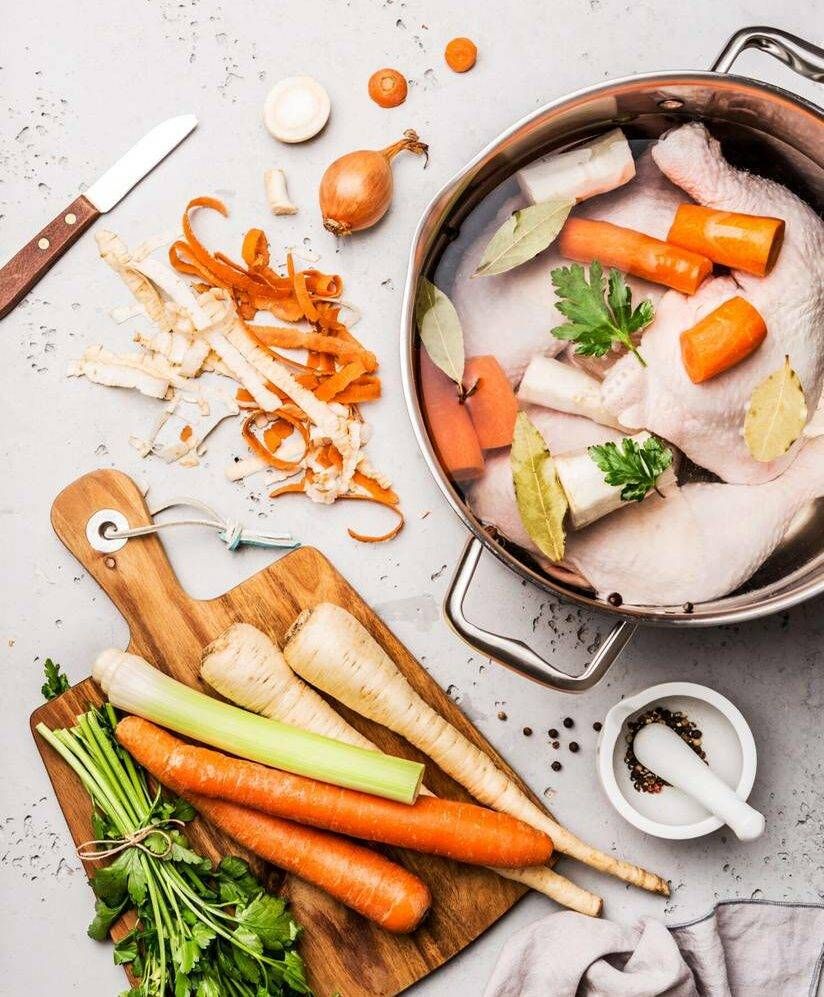 There's nothing more comforting than chicken broth. The best chicken broth (and cheapest) is made from nothing but waste. I keep Ziploc bags in the freezer and add onion and garlic skins, carrot tops, leek greens, celery ends, parsley stems, and leftover roasted chicken carcasses. After a month or so I've got enough for a delicious batch. Often my wife will have the craving for dumplings so I bust out my mother's recipe. They're fluffy, buttery, and chivey (my contribution) and perfectly melt in your mouth. A couple of bowls of dumplings, some red wine, and a good movie sounds like a perfect quarantine night to me. (Full recipe here)
Leah Korger is a Minneapolis-based chef, food systems professional and proprietor of Blue Collar Supper Club. Find Blue Collar Supper Club on Instagram and the web.
Shepherd's Pie (Non-vegetarian)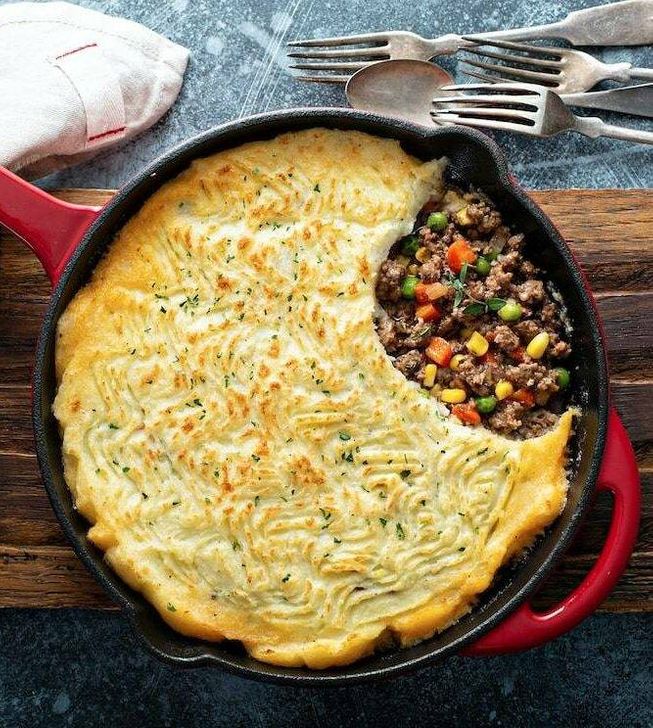 Meat, potatoes, and peas cooked with spices, baked into a hefty loaf, and served piping hot — a shepherd's pie is perfect comfort. My parents both made it for as long as I can remember. It always put me in mind of my forebears in the British Isles, but my dad first had it in Trinidad. Distinguish your pie by how you decide to introduce a touch of natural sweetness. My mom adds a layer of sweet corn. I throw a parsnip or two in with the mash. Just before pulling your pie from the oven, fire the broiler for a crispy cheesy top. Serve with catsup & Worcestershire sauce.
Richard Parks III is a James Beard Award-nominated writer, filmmaker, cookbook author and host of "Richard's Famous Food Podcast". Find the podcast on Twitter, Instagram or subscribe via your favorite podcast portal.
Butternut Squash Soup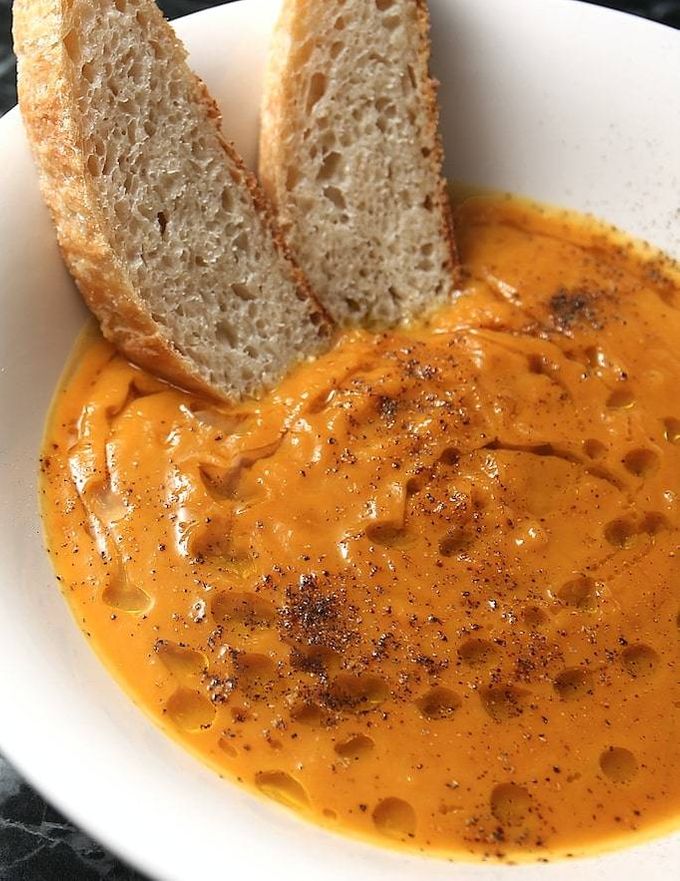 One of my favorite winter dishes is butternut squash soup. It's a new dish I've been making for the last four winters and my recipe keeps changing. It's delicious any way you make it — savory, sweet, heavy and filled with dairy or light and served as a side dish. I love that it pairs nicely with two of my other favorite foods: salads and fresh ciabatta bread. It's a new family favorite and I love how this dish also introduced my family to the versatility of butternut squash and other winter squash. (Full recipe here)
Andi Murphy is a New Mexico-based multimedia journalist, food writer and host of "Toasted Sister" podcast. Find Toasted Sister on Facebook, Instagram or subscribe via your favorite podcast portal.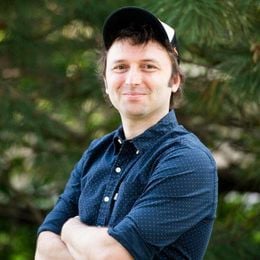 James Napoli
, a former editor at Rewire, is a freelance writer, photographer and radio producer. Find him on Twitter @jamesnapoIi or Instagram @james.napoli.